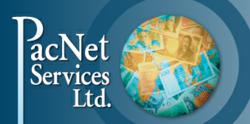 Our international payday loan solutions pave the way for established US companies to experience international growth
Vancouver, BC (PRWEB) March 06, 2013
PacNet Services, an international payment processing company that provides efficient processing of loan advances and repayments for payday lenders worldwide, is sponsoring the Community Financial Services Association of America's (CFSA) Annual Meeting & Conference, March 5-8, 2013 in Dana Point, California. The CFSA Annual Meeting & Conference promises to enhance networks, industry expertise, and brand development within the short-term credit market.
PacNet's presence will give CFSA attendees an opportunity to consult with experts who have specialized knowledge of international payments and a wealth of experience in the payday loans industry. International banking expert Brian Weekes will be available to consult with online lenders, showing them how to streamline global expansion using cutting edge payment products in key markets, such as the UK, Europe and beyond.
"PacNet offers easy processing of loan advances and repayments in markets worldwide", says Weekes, "We've been active in this industry for years; our established international solutions are easy to implement, and are informed by a seasoned understanding of the sensitive regulatory framework of the short term credit industry. Our international payday loan solutions pave the way for established US companies to experience international growth. In the UK, we provide access to UK Faster Payments, which is available 24 / 7 to facilitate instant loan advances to account holders across the UK".
The Community Financial Services Association of America (CFSA) is the national organization dedicated to advancing financial empowerment for consumers through small dollar, short-term loans. Now in its 13th year, CFSA was established to promote laws and regulations that protect consumers, while preserving their access to credit options, and to support and encourage responsible payday advance industry practices.
About PacNet:
PacNet offers a complete suite of payment processing services for e-commerce, affiliate marketers, direct mailers, publishers and more. Some of the payment facilities offered by PacNet include international merchant accounts, cheque processing, credit card processing in 130 currencies, direct debit, EFT, ACH and bank transfer collection from the US, UK and around the world.