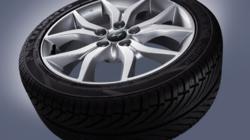 The more you know about tire ratings the safer driver you become.
Pittsfield, MA (PRWEB) March 10, 2013
What do all those numbers and letters on your tires mean? Why should anyone care? When buying new tires which ones matter? A webpage from consumer information firm Financial Firebird Corporation explains and demystifies all of this in their Tire Ratings website. Starting with a breakdown dividing all of the information into its separate elements and then explaining each part consumers should walk away from the article with a new and complete understanding of the technical ratings of their tires.
In addition to understanding various aspects of sizing, users learn about tire speed ratings, but hopefully they don't attempt any tests at the top end of the scale. Remember, tire manufacturers say drive only the speed limits with those Z rated tires marked in theory to go over 186 mhp.
Beyond the text book descriptions of the tire ratings, additional articles help consumers to understand various categories of tires to aid them in choosing the right tire for their own car and driving requirements. Find information on basic tires for everyday driving such as snow, rain and touring tires as well as more exotic summer performance tires. Those looking for more cold hard facts may find both track results ratings and consumer tire ratings arranged by tire brand.
For those driving pickups and similar vehicles look for special sections on light truck tires including their own set of sidewall ratings and an extra discussion of load including a load index chart.
Read all about tires to become more educated on best practices and enhance your own safety. Use the knowledge to avoid accidents and save money, you can start with buying tires at a discount right from the site.
About Tire Ratings
Tire Ratings stands as a part of the driver information and tools web pages started in 1996 and currently offered by the Financial Firebird Corporation with a goal of providing consumers with free unbiased help in making informed purchases and financial choices.