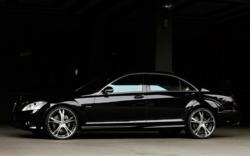 Quintessentially Driven once again hits the top spot for chauffeur driven luxury
London (PRWEB) March 13, 2013
Quintessentially Driven is a sister business of Quintessentially Lifestyle- the Globes finest luxury lifestyle and concierge service. The luxury chauffeur service in London, New York and Miami drives celebrities, high net-worth individuals and other lucrative clientele wherever they wish at a moment's notice in a number of exquisite motor vehicles. This month, with further investment into its product line, the company have released the brand new Mercedes Benz S-Class' model as part of its unequivocal luxurious fleet.
These cars will ride like no other thanks to 'Magic Ride Control' (the official Merc name!) Forward facing cameras scan the road ahead and alter the S-Class damping rates according to the surface, all automatically! What's more, the new S-Class doesn't have any conventional light bulbs anywhere in the car. The car's light clusters are all LED front and rear- the front units' auto-dim for oncoming traffic and can 'spotlight' pedestrians and wildlife at night to alert the driver. Meanwhile, the rear lights vary their intensity in bright ambient light to cut down on power consumption. All in all this super new technology allows both the driver and the passenger the most exquisite, enjoyable and quintessential experience in comfort and safety.
It has been said that the S-Class can actually 'see' like a human and completely drive itself! It introduces 3D stereo multi-purpose cameras as well as six on-board radars giving drivers eyes in the back of their head! The new S-Class is certainly set to offer a very smooth ride indeed.
Will the S-Class topple the Range Rover for affluence class honours?
With the flagship new Jaguar, the latest Range Rover's and the new brand Merc S-Class, Quintessentially Driven once again hits the top spot for chauffeur driven luxury.