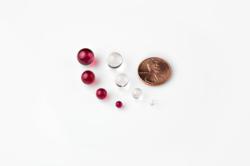 Fused Silica Lenses are the perfect choice for high transmission from UV to NIR.
Philadelphia, PA (PRWEB) March 13, 2013
Swiss Jewel Company is pleased to announce that Sapphire Ball Lenses, Glass Ball Lenses and Fused Silica Ball Lenses are in stock from Diameter 0.20mm. Optical finish and low spherical aberration are ideal precision focusing and sensing applications. Stock materials include Sapphire Lens for harsh environments and chemical stability, BK-7 Lens for fiber collimating, and now Fused Silica Lens for high transmission from UV to NIR (200-2,000nm).
Hemispheres and AR Coated Ball Lenses are available for easy integration to your instrumentation. Additional materials, such as Black Glass and Ceramic are also available with quick turnaround.
Applications include Fiber Optic Connectors and Collimators, Flow Meters, Rotameters, Bar Code Readers, Wear Applications. Request our newest catalog or visit us online to view our stock Ball Lenses.
For more information or technical assistance please call, email or visit http://www.swissjewel.com
About Swiss Jewel Company
Since 1920 Swiss Jewel Company is a leading supplier of precision Synthetic Sapphire, Ruby and Glass components for various industrial markets worldwide. In the past few decades the world has evolved and so has the demand for Synthetic Sapphire and emerging materials. During this time Swiss Jewel has increased efficiencies, quality and continually developed processes to serve an ever growing list of applications.