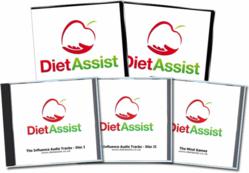 The DietAssist programme helps dieters strengthen their motivation and resolve, and creates the optimum psychological state for success
(PRWEB UK) 8 March 2013
The DietAssist programme is designed to be used over a 12 week period. However, some people have a need to reduce weight quickly for a particular function or event.
DietAssist have been asked frequently about how to use their programme over a four week period. In response to this, today they have issued advice on how their users can use the programme to lose weight in a month.
Simply by chopping and changing the order the modules are used in, the customer can take a short cut to reducing weight. Although they still recommend completing all the modules, they have found that this method is very effective at creating fast efficient weight loss in a shorter time period.
This method works particularly well with the fasting regimes like the 5:2 diet, but can also have a dramatic effect when used with any sensible eating plan.
This follows their recent advice, 'How many calories to lose weight', in which DietAssist covered the basics of losing weight, and the pitfalls from the automatic calories people tend to eat without realising it.
Rob Woodgate, co-creator of DietAssist, said "We have issued this advice in response to requests we received from customers who wish to use the DietAssist programme, but who need to lose weight faster than the usual 12 week period we recommend."
The DietAssist programme is the result of over 20 years experience of helping people to lose weight effectively, and uses the latest psychological techniques to avoid the self sabotage and demotivation that dieters commonly experience.
The DietAssist programme helps dieters strengthen their motivation and resolve, and creates the optimum psychological state for success. It is designed to work alongside any weight loss programme or sensible eating plan.