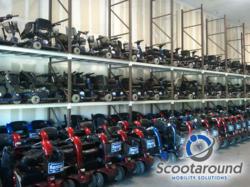 ...the Scootaround with Pride initiative... will be of great benefit to both Pride Dealers and rental customers...
Orlando, FL (PRWEB) March 11, 2013
Scootaround's Open House to celebrate their new Orlando location was a great success, allowing company representatives to personally meet and connect with valued stakeholders.
The event was held at Scootaround's new warehouse and offices at Suite 400, 7703 Kingspointe Parkway in Orlando. Throughout the two day event, customers, suppliers and industry partners received a behind-the-scenes look at Scootaround's Orlando operation.
"It was wonderful to have a chance to meet with our partners, suppliers and friends," said Lee Meagher, Scootaround founder and CEO. "As a nation-wide company, it's important to maintain personal contact with our partners and suppliers. Working together helps us find new ways to improve the customer experience."
"I want to thank all of our partners who came to the event and helped to make it such a success, particularly Pride Mobility," said Kerry Renaud, president and COO of Scootaround. "We had productive meetings and received great feedback on the "Scootaround with Pride" initiative. This program will be of great benefit to both Pride Dealers and rental customers alike all across the USA."
In addition to a tour of the facility, Scootaround and Pride Mobility gave away a new Go-Go Ultra X mobility scooter to one lucky guest.

About Scootaround Inc.:
Named on Inc. Magazine's top 5000, Scootaround Inc. is North America's leading nationwide mobility equipment company, providing scooter and wheelchair rentals and sales for travelers, through to Fortune 500 companies. They also provide mobility enhancement services for conventions and large events through fleet rentals and onsite-programs. Scootaround is a proud sponsor of the Society for Accessible Travel & Hospitality (SATH) and an accredited member of both the ARA and CRA Rental Associations. Scootaround is a proud supporter of Paralyzed Veterans of America.
Scootaround special needs services include rentals for motorized scooter, wheel chair, ECV, and powerchair equipment types. Disability services are available for the elderly and those with mobility issues for convention, vacation, business, cruise and convention travel. Scootaround also provides a Nationwide mobility equipment repair service for airline carriers and passengers. For more information, please visit http://www.scootaround.com.