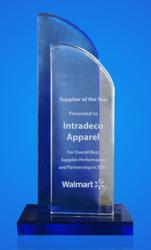 When you consider all of the great companies that supply Wal-Mart with all kinds of wonderful products, it is indeed an incredible honor to receive this award.
Miami, FL (PRWEB) March 11, 2013
Broad-based vertical manufacturing company Intradeco Apparel, Inc. received the Wal-Mart supplier of the year award for overall best supplier performance and partnership in 2012.
This is the highest honor given to a supplier by Wal-Mart, one of the best retailers in the world. It is recognition of Intradeco efforts in execution, social compliance, merchandising, quality, environmental responsibility, and sustainable business model to bring the best value to the consumer.
"When you consider all of the great companies that supply Wal-Mart with all kinds of wonderful products, it is indeed an incredible honor to receive this award," says executive vice president for Intradeco, Terry Trofholz. "Wal-Mart is one of our most valued customers and on behalf of the entire Intradeco Team of over 6,500 employees all over the world we are very proud to be recognized for bringing our comprehensive supply chain solutions to help them better serve their customers."
About Intradeco Apparel
Intradeco is a socially responsible vertical manufacturer of textiles and finished goods based in El Salvador and Nicaragua. Since 1982, Intradeco Apparel has been a world class apparel supplier to the US apparel market. Intradeco wholly owns fully vertical operations in Central America in conjunction with operating global sourcing. The company's operations have grown worldwide, employing more than 6,500 people. Intradeco continues to supply quality fashion basics and thermal underwear, and has implemented major sustainable manufacturing processes. The company oversees production in Central America through its' subsidiaries – Inmobiliaria Apopa, Intradesa, and Prone. They have sales, design studios, and merchandising offices in Manhattan, Bentonville, and Miami. While operate their own state of the art distribution facilities in El Salvador and Miami, and maintain a network of distribution facilities in the west coast and northeast