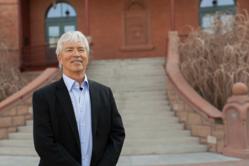 Over the last two years I was fortunate to visit many universities around the world… This [Arizona State University] is a more exciting place.
Tempe, Arizona (PRWEB) March 11, 2013
Gregory Raupp, the founder and former director of Arizona State University's Flexible Display Center, has been named director of MacroTechnology Works within the Office of Knowledge Enterprise Development at ASU.
Raupp is returning to ASU from the City University of Hong Kong (CityU), where he served as Vice President for Research and Technology and as Dean of Graduate Studies. During his time at CityU, Raupp helped to establish a strategic institutional partnership between the two universities, including a focus on advancing flexible electronics.
In his new role at ASU, Raupp will enhance the flexible systems and manufacturing portfolio for the university.
"Greg is an outstanding faculty member who is able to envision large projects, secure funding and support, and successfully execute them," said Sethuraman "Panch" Panchanathan, senior vice president for ASU's Office of Knowledge Enterprise Development. "He understands how to coordinate groups of faculty members and excite them with ideas that have the potential to create significant impact."
"I went to Asia because I sensed it was the part of the world where things were happening fast, things were developing fast and that it would be very exciting," said Raupp. "Over the last two years I was fortunate to visit many universities around the world – in Asia, in Europe, in Africa, in Australia. None of them had the combination of audacious goals, a willingness to change and the agility to move quickly on big new initiatives that I have seen at ASU. This is a more exciting place."
President Obama's call for the expansion of the National Network for Manufacturing Innovation (NNMI) presents opportunities to position Arizona as a center for advanced manufacturing.
"The most important part is getting the right people," said Raupp. "It's a combination of capability and having a team mindset. Work together, disagree when you should, hammer it out, find the best path forward. You need to find the person that says, 'by working together, I can do so much more.'"
###
About ASU's Office of Knowledge Enterprise Development:
The Office of Knowledge Enterprise Development advances faculty and student research, economic development, and entrepreneurship at ASU, in Arizona, and beyond. The knowledge enterprise is a new model for a 21st century research university with a unique portfolio of interdisciplinary institutes and initiatives, corporate engagement programs, and support for the creation of new businesses. This fusion of people and ideas results in innovation-driven and use-inspired activity that allows ASU and its institutional, industry, and community partners to address society's most pressing challenges while ensuring competitiveness in the global knowledge economy.