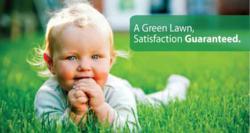 "As not every lawn is the same, Senske provides a customized service based on the needs of the lawn to ensure a healthy, green lawn that our customers can take pride in."
Kennewick, WA (PRWEB) March 10, 2013
Experts at Senske Lawn & Tree Care Services, a division of Senske Services, say now is the time to lay the foundation for a lush lawn. But they say many homeowners make the mistake of waiting until the weather warms up to take charge of their yards. "On the Monday after the first 70 degree weekend, we can hardly keep up with all the calls," says Dan Warehime, Vice President of Senske's Lawn & Tree Care division. He says homeowners can take three steps toward having a healthy lawn while there is still a chill in the air.
The first step is to get the lawn ready for new growth with a total clean-up. This means edging lawns and removing leaves, as well as pruning trees and shrubs before they bud and leaf out. This is also a good time to spray trees and shrubs to prevent mites and scales.
Senske also recommends raking grass that has been matted down by snow cover. Right now many lawns across Utah, Nevada, Idaho and Eastern Washington are displaying brown spots, which indicate the grass is dormant. Winter cold fronts in the area put lawns into a deeper dormancy, which could result in root and leaf damage if not treated properly. Senske Services says early March is the time to focus on bringing lawns out of dormancy.
Weed control is also an important part of lawn care, because weeds compete with grass for space and soil. This is why having a well-maintained lawn treated with an EPA-approved herbicide is the best defense against weeds. If the problem is treated in a timely manner a healthy lawn will fill in the bare patches in the spring, giving weeds less space to grow.
Caring for a yard properly takes a lot of time and patience, so don't be afraid to get help. Homeowners across Utah, Idaho, and Eastern Washington who need help getting their lawn back on track should turn to professionals for a fresh start. Senske Services has lawn care packages starting at just $39.95.
About Senske Services:
Senske Services, Inc. is a leading lawn, tree and pest control service provider that is locally owned and operated. It has been a trusted source of lawn, tree and pest control services for more than 65 years across Eastern Washington, Idaho, Utah, and Las Vegas with its corporate office based in Kennewick, Washington. To see what Senske Lawn & Tree Care can do for you, visit http://www.Senske.com.