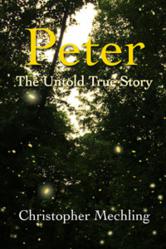 All children grow up,
all but one.
(PRWEB) March 12, 2013
Peter: The Untold True Story by author Christopher Mechling tells of a boy named Peter who would not grow up- a familiar theme, except this book is not a fairy tale. It is the life story of a real historical figure who lived in 18th century England and became a legend in his own lifetime.
"The more I researched Peter, his life and the historical backdrop, the more committed I became to telling his story," Christopher Mechling says, regarding the subject of his historical novel. "I believe in Peter."
In 1725, Peter the Wild Boy was discovered in the forest of Hamelin. It seems he left his parents when he was very young and lived alone for years. At the time, he was estimated to be eleven or twelve years old. Peter's origin quickly captured people's imaginations, and his good nature won the appreciation of George I, King of England. Peter was then brought to London, where he was introduced and became a popular figure in society. The Royal Family was as taken by the Wild Boy's charm as King George was, and decided to keep Peter as part of their household. They hoped to educate him, and help him grow up as a proper English gentleman, a task for which they recruited formidable intellectuals such as Dr. John Arbuthnot and others.
Daniel Defoe, author of Robinson Crusoe, wrote of Peter, "it would indeed be a terrible satire upon the present inspired Age, first to allow this Creature to have a Soul, and to have Power of thinking, qualified to make a right Judgment of Things, and then to see that under the Operation and Influence of that regular and well-ordered Judgment, he should see it reasonable to choose to… retire again from human Society, rather than dwell among the informed of Mankind."
Christopher Mechling's imaginative dramatization of the life of Peter captures the joy, innocence and fire of a bright, feral child living in the midst of the Age of Enlightenment. The epic story of his life, spanning approximately seventy years, navigates a tumultuous and thoughtful period in English history, rich with characters.
Peter: The Untold True Story is scheduled to be released May 4, 2013. It will be distributed to bookstores through Ingram, and booksellers can register here to be notified when the book is available for order. Readers may pre-order the historical novel online now at http://www.christophermechling.com.