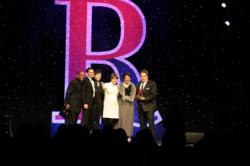 As a boutique firm focused on social justice issues, we are honored that the work of Camino Public Relations and our clients was recognized by PRWeek. — Elizabeth Toledo, president of Camino Public Relations
NEW YORK (PRWEB) March 11, 2013
Boutique public relations agency, Camino Public Relations (Camino) was honored with two PRWeek industry awards (crisis communications and nonprofit campaign of 2012) for its work with Planned Parenthood Federation of America to turn the 2012 Susan G. Komen funding crisis into breast health promotion.
Camino Public Relations was also given an Honorable Mention for Campaign of the Year, PRWeek Awards' second highest honor.
According to one PRWeek judge, Camino Public Relations and Planned Parenthood's public relations campaign provided a "text-book case study on how to change perception while still highlighting a vital cause." Another judge noted, "Planned Parenthood parlayed a potential crisis into an opportunity and changed the conversation."
To read more of the judges comments and a case study of the campaign, visit: Nonprofit Campaign of the Year, Crisis or Issues Management Campaign of the Year and Campaign of the Year.
PRWeek awards are the communications industry's leading awards, honoring excellence and creative strategies in the communications field. They are informally dubbed the "PR Oscars." The PRWeek judging panel was made up of senior professionals from agency, corporate, nonprofit, education and government backgrounds.
"As a boutique firm focused on social justice issues, we are honored that the work of Camino Public Relations and our clients was recognized by PRWeek," said Elizabeth Toledo, president of Camino Public Relations. "Solid public relations strategies combined with excellent organizational leadership turned a crisis into one of the most-talked about issue awareness campaigns of 2012."
The Susan G. Komen Foundation (Komen) sparked 2012's largest philanthropic news story when it notified Planned Parenthood that it was disqualified from future funding opportunities. The conflict threatened to pit one of the world's most trusted women's health charities against one of the nation's most trusted women's health care providers, presenting brand implications for both organizations, as well as for a wide array of corporate philanthropic programs.
As Planned Parenthood Federation of America's crisis communications firm, Camino recognized the potential harm to underserved women and Planned Parenthood's trusted brand. The communications strategy sought to increase support for access to women's health care without political interference and prioritized a focus on patient needs and experiences.
The result was that more than 26 percent of traditional media coverage in the first 48 hours referenced Planned Parenthood's clinic exam numbers, as well as the voice of patients. This patient-focused message platform was carried through the fundraising implementation conducted by Planned Parenthood's staff and development consultants.
More than 77,000 people donated $3 million in less than four days, and by August Planned Parenthood had launched a new national breast health program.
"In crisis we see opportunities for a brand to further define itself and reassert its allegiance to the organization's core values," added Toledo. "By remaining true to its patients, Planned Parenthood was able to authentically connect with the public and further an important discussion about breast health access for all women. We were honored to be able to help tell that story."
About Camino Public Relations:
Camino Public Relations was founded in 2007 and represents more than two decades of experience in nonprofit communications. The firm's strategists have been at the helm of the most prominent and controversial social issues of our time, including immigration, reproductive health care, health care disparities, affirmative action, sex education, LGBT issues, employment, politics and more. Camino helps spark positive social change and reach diverse audiences through media advocacy, publicity, social marketing initiatives and crisis communications. By introducing new areas of interest and shifting public perspectives, we transform the national dialogue on issues that matter to further equality and social justice.