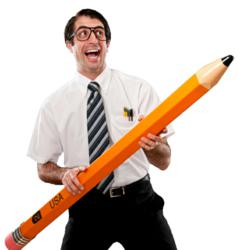 Offering the top brands in file cabinets, desks and chairs at great prices has proven to be the deciding factor for our customers.
Grand Rapids, MI (PRWEB) March 14, 2013
Add another record sales month to the Online Office Supplies E-Tailer's current hot streak. With February coming to a close, SupplyGeeks.com reported their fifth consecutive month of record setting sales. Although specific sales numbers were not given by the private Grand Rapids based startup, they did share that revenue jumped an impressive 38% from January. This makes February the best sales month to date for SupplyGeeks since their initial launch in the first quarter of 2012.
SupplyGeeks.com Director of E-Commerce Matt Jones is encouraged by the strong February growth in addition to their current hot streak. "Building off an already record-breaking month of January, we had our work cut out for us. However, we accepted the challenge and not only increased revenue by 38%, but improved in all key site metrics as well," said Jones.
As expected, popular product categories such as Binders, Clipboards and Rubber Bands continued to be a top-selling driving force in February. However, the Office Furniture Category exceeded all expectations and fueled sales for the B2C retailer. "Increased sales from the office furniture category has been remarkable," said Matt Jones. "This surge shows more and more customers are choosing SupplyGeeks to furnish their home office or business. Offering top brands in file cabinets, desks and chairs at great prices has proven to be the deciding factor for our customers. We anticipate that this trend will continue in the upcoming months," Matt added.
To round out the first quarter of 2013, the SupplyGeeks plan to focus heavily on continuing to build a brand that people know and trust by providing quality content to new and repeat customers. Through the use of their Weekly Newsletters, the e-tailer provides special savings on featured products along with exclusive discounts and coupon codes to their store. Couple this along with their fun and resourceful Office Blog, the SupplyGeeks are adding unmatched value to every aspect of a customer's shopping experience.
In a time where the big box stores are trying to make ends meet, SupplyGeeks.com continues to grow. By sticking to their roots of providing in-depth product knowledge with exceptional customer service, the Geeks look to set themselves apart even further from competition and big box stores alike. With two record setting months to begin 2013, SupplyGeeks.com is the emerging office supplies company to watch.
About SupplyGeeks.com
Headquartered in Grand Rapids, Michigan, SupplyGeeks.com is an online seller of office supplies, business furniture, tech gear and more. Backed by a parent company with over 60 years of experience in office supplies, this innovative company aims to make your work experience more efficient, and whenever possible, more fun. For more information about SupplyGeeks, please contact Matt Jones at mjones(at)supplygeeks(dot)com.