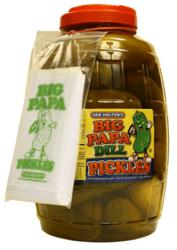 We like to have fun with our products and everyone recognizes Big Papa, making this a great extension of our brand
Waterloo, WI (PRWEB) March 18, 2013
Van Holten's, the Waterloo, WI based pickle manufacturer is "bulking up" their most popular pickle with a new product offering. Big Papa Dill Pickles are now available, bulk packed, in a 30 count barrel.
"We developed this pickle barrel for movie theatres but it's a great fit for other concessions, delis, convenience stores, and restaurants" mentioned Eric Girard, Van Holten's Vice President of Sales & Marketing.
The pickle barrel delivers the same hearty dill flavor that consumers love in Van Holten's Big Papa Dill Pickle-In-A-Pouch, in a new service friendly bulk display. Each barrel is guaranteed to contain exactly 30 pickles and has 30 wax paper bags attached for easy serving.
"Our fans can't get enough Big Papa", Van Holten's flagship Pickle-In-A-Pouch character. "We like to have fun with our products and everyone recognizes Big Papa, making this a great extension of our brand", stated Girard.
Van Holten's has already received a commitment from Cinemark, one of the nation's largest movie theatre chains, to carry the new bulk pickle item. Cinemark currently carries the Big Papa Pickle-In-A-Pouch in many of their locations. You can expect to see Van Holten's 30 count Big Papa Dill Pickle Barrel at retail outlets nationwide beginning in April.
Business has been booming for Van Holten's who has experienced 10 consecutive years of sales growth. Founded in 1898, they employ 70 people in Waterloo, WI. Famous for their Pickle-In-A-Pouch they are the world's number one producer of individually packaged pickles. Van Holten's playfully markets their pickles as a better for you snack alternative. Their products are distributed in all 50 states and Canada and can be found at convenience stores, grocery stores, concessions stands, and many other retail outlets.