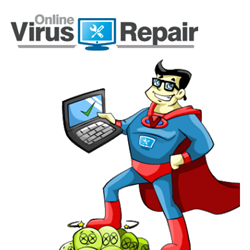 As viruses get more advanced, it's essential to keep your computer protected with the best anti-virus and malware protection available to prevent disaster.
San Luis Obispo, CA (PRWEB) March 14, 2013
This year has presented a serious problem for anti-virus companies struggling to keep up with the constantly evolving viruses that plague computers. New viruses that use vulnerabilities in common plugins like Flash and Java have been able to install themselves, simply by visiting an infected website or attempting to view a video online. Computer users are usually confused as to how the virus managed to install, even with proper and updated anti-virus software. Dan Steiner, CEO of OnlineVirusRepair.com says, "We've tested just about every anti-virus program available today, and literally every single one has failed to block one of the new viruses. This is particularly alarming to those who depend on their computers for business or to store important data."
To combat this vulnerability, the experts at OnlineVirusRepair.com have added MalwareBytes Anti-Malware Pro to their arsenal. Steiner continues to say, "Our job is to clean up computers, then protect them from getting infected again. Combining MalwareBytes with any anti-virus software has proven to be significantly more effective than running anti-virus alone. It's very clear that MalwareBytes catches and can remove viruses that traditional anti-virus will miss. The two running together work flawlessly."
While there aren't any bulletproof anti-virus solutions available, the team at OnlineVirusRepair.com is constantly looking for the latest and greatest methods to help keep people protected from the bad stuff. Steiner concludes "If we aren't providing the best protection available to our clients, we aren't doing our job. We've had very few people that have managed to re-infect their computer with the software we install with every cleanup."
OnlineVirusRepair.com is an American based company specializing in remote removal of computer viruses and malware for individual computer users and businesses. The company was founded in 2012 by Dan Steiner and Brent Sarkison with headquarters in San Luis Obispo, CA. Customers with infected machines can call or chat with OnlineVirusRepair.com technicians to have viruses, malware, and spyware removal performed remotely without the hassle of taking their computer "into the shop." Technicians are able to remotely remove threats even without the client being at their computer; often in 60 minutes or less.
To learn more about OnlineVirusRepair.com visit their website at http://www.onlinevirusrepair.com today.