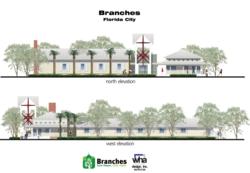 Florida City, Florida (PRWEB) March 19, 2013
Last week, the Himan Brown Charitable Trust made a $340,000 gift to Branches, Inc. (formerly South Florida Urban Ministries) to support the Building Up Branches Capital Campaign for the new Branches Florida City facility. With this incredible support, Branches will be able to build a new and larger facility in Florida City in order to serve more children and families in South Dade.
To make this gift even more special, an Anonymous Christian Family Foundation has committed to a generous $1.5:$1 matching grant for all donations and pledges made to the Building Up Branches Capital Campaign by June 30, 2013, or prior to June 30, 2013 if the matching grant is maximized.
The new proposed building will house the programs of Branches Florida City that serve the academic, life enrichment and financial stability needs of children, youth and families. Branches Florida City is Branches, Inc.'s anchor program site in South Miami-Dade County providing services to residents of Florida City and Homestead.
Himan Brown, who died in 2010 at the age of 99, was a self-made man and the son of immigrant parents from the Ukraine. Mr. Brown, although barely able to speak English until starting school (Yiddish was routinely spoken at home) took advantage of the educational opportunities available, and graduated with high honors from Brooklyn College and Brooklyn Law School where he was valedictorian of his class. He achieved national recognition in the then fledgling world of radio where, for almost 70 years, he was an iconic figure in that medium. He would be immensely proud to know that his Charitable Trust will allow disadvantaged young people of South Florida to have opportunities to grow and achieve as he did many years ago.
Branches Florida City currently serves over 130 students, providing after-school programming through its Grow program, and youth development services through its Climb program. Branches also offers financial stability services to the parents and family members of the students which include free tax preparation, budgeting, Ways to Work car loan program and much more. With the new facility scheduled to open in the Fall of 2014, Branches will be able to triple the number of children and families served and be able to make an even greater and lasting impact.
The new 11,000 square foot Branches facility will house a large multi-purpose room, kitchen, offices, classrooms, weight lifting room, computer lab, covered patio, new playground and a United Way Center for Financial Stability (UWCFS) of South Dade. Branches currently houses and operates the United Way Center for Financial Stability at its North Miami Community Center and main office and looks forward to being able to provide high quality financial coaching services to families in Florida City and Homestead. Even though Branches already provides economic development services at Branches Florida City, once the official UWCFS is on-site, families will have access to an even larger array of services.
Groundbreaking for the new building is currently planned for the early Fall of 2013 and Branches will be inviting the community to join them for this exciting endeavor. According to Brent McLaughlin, Branches Executive Director, "Our vision is becoming a reality because of the incredible generosity of the Himan Brown Charitable Trust! This gift means that generations of children and families in South Dade will be provided access to life-changing opportunities through the programs of Branches. We couldn't be more grateful for their profound support!"
_____________________________________________
About Branches
For 40 years, Branches (formerly South Florida Urban Ministries) has made a positive impact in the community by delivering on its mission to serve, educate and inspire people through student, family and financial stability services. Branches provides long-term, holistic services for motivated individuals and families. We help people grow deeper and climb higher in life by building a foundation through education so they can achieve their goals and fulfill their potential. For further details about the Branches Florida City Capital Campaign, please contact Isabelle Pike at 305-442-8306 x1002. To make a gift to Branches, please visit http://www.branchesfl.org and click on DONATE.