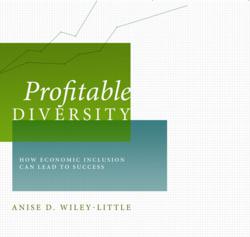 " 'Profitable Diversity' is packed with real world success strategies to help leaders understand economic inclusion. ... A must have resource for executives, HR professionals and learning professionals.
— Sheila Robinson, CEO & Publisher, Diversity
Chicago, IL (PRWEB) March 14, 2013
"Profitable Diversity: How Economic Inclusion Can Lead to Success" proves that corporate diversity is not only ethical, but a smart business move. Diversity is race and gender, but it is also so much more than that—and should be approached not as simply a quota to be filled, but as a way to maximize success. "Profitable Diversity," an easy-read guide for chief diversity officers, practitioners, and business leaders, will change the way the corporate world approaches diversity.
"Profitable Diversity" addresses companies owned by women, veterans, and those certified by the National Gay and Lesbian Chamber of Commerce, giving special attention to the most overlooked aspects of diversity. This how-to guide uses real-life examples to make a compelling case: diversity is vital for maximum business potential. "Profitable Diversity" embraces the unconventional, reasoning that unconventional methods lead to unconventional degrees of success.
Busy professionals will benefit from "Profitable Diversity"'s readability and concisely stated arguments. With the help of Profitable Diversity, increased and maximized diversity will lead to increased and maximized business opportunities and strategic partnerships. This practical guide offers original ideas on how to translate diversity into ever-growing success.
About the Author
Anise D. Wiley-Little is a human resource, diversity and inclusion, work-life strategist, life coach, sought-after speaker and former chief diversity officer. She has spent more than 25 years in a Fortune 100 organization and serving the community. She has received numerous awards for her work, including the 2006 Most Influential African Americans Freedom Award for her contribution to racial justice and equality and the People's Voice 2006 Leadership. Wiley-Little has also been selected as one of Chicago's most influential in Who's Who in Black Chicago, and as YWCA's 2010 Women of Achievement in Business. She has been widely quoted or profiled in many publications including the Chicago Tribune, Workforce Management, Investor's Business Daily, PR Week and HR Magazine. She currently lives in north suburban Chicago.
Book Specifications:
Two Harbors Press
Softcover: $16.95 / ISBN: 978-1-938690-58-7
Hardcover: $21.95 / ISBN: 978-1-938690-55-6
132 pages / http://www.ProfitableDiversity.com