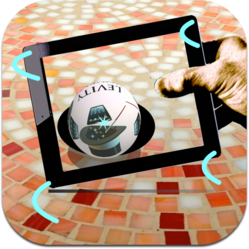 Pantomime™ turns an iOS device into a completely new kind of 3D game paddle – combining the best of full-body game platforms like the Nintendo Wii or XBOX Kinect with the beauty, power and mobility of iPads and iPhones.
Sebastopol, California (PRWEB) March 14, 2013
Levity Novelty LLC today launched Invisibility 3D, a mind-bending app for Apple iOS devices that uses revolutionary Augmented Reality technology to convince users they're seeing a live interactive world directly through the device - as if the screen was made of glass. Unlike any previous app, Invisibility 3D lets users play with a realistic virtual ball on their real table by tapping, rolling, and paddling it with their mobile device – all while viewing the experience through the handheld screen. It is available today in Apple's App Store for $0.99 US.
Invisibility 3D marks a new era in the emerging field of Augmented Reality -- 3D virtual reality worlds embedded in the real world. Typical augmented reality experiences rely on live video to estimate the device's motion. This leads to jitter and interruptions that severely limit game play.
ADVANCED 3D TECHNOLOGY
Invisibility 3D instead uses Levity Novelty's patent-pending Pantomime™ technology, which combines live 3D gyroscope data with a model of how the device is shaped, supported and held. Pantomime knows which corner or edge is resting on the table, and whether the user is swinging the device as a paddle. It uses detailed geometry information – like the dimensions of the device and the location of its screen and camera – to compute realistic physics, graphics, collisions and sounds as the player swings the device and interacts in 3D. The player sees and hears the iPad or iPhone touch the 3D ball on the table beside it – and the ball responds realistically.
INVISIBILITY
To begin, a user simply takes a photo of the table or floor, from directly above, and pinches the image so it lines up with a live camera view. Then a hundred times each second, the app measures how the device is turning in 3D, and draws a perspective view of the table it's resting on, seamlessly merged with live video of the table and the room. There's no clear boundary between the 3D graphics and the real table. From there, all sorts of illusions become possible.
With a mysterious blue acid, users can "Rub Away" Apple's standard Home screen to see through it, or "Rub Through" the iPad or iPhone to see the chips inside it and the world beyond. Tipping the device confirms that it's not just an image, but a 3D model of the device's front screen, circuit board and inner edges. Users can make an entire layer translucent or transparent by pressing it, and see the real world and the Augmented Reality world through it.
Inventor Dr. David Levitt, a pioneer in virtual reality and touch computing, explains: "Pantomime turns an iOS device into a completely new kind of 3D game paddle – combining the best of full-body game platforms like the Nintendo Wii or XBOX Kinect with the beauty, power and mobility of iPads and iPhones."
VIRTUAL REALITY GETS REAL
Two decades ago VPL Research sparked a vision of seamless, realistic virtual reality worlds.  But it required special clothing – a headset that blocked out the real world, a glove to reach into the virtual one – and you couldn't get realistic real-time graphics at any price.
"Today with Pantomime, you're looking through a mobile device – the same one you're reaching into the 3D world with.  So the iPad replaces both the headset and the glove, and you don't need special clothing," explains Dr. Levitt, also a former VPL Research scientist.  "All the graphics hardware and sensors are built-in too, and thanks to the camera and the Invisibility effect, instead of blocking out the real world, the virtual world is seamlessly part of it.  That's the magic of Augmented Reality."
"If you've got an Apple mobile device, suddenly you've got the top VR and augmented reality platform in your pocket.  Invisibility 3D responds to the slightest motion of your wrist without lag or jitter, animates at 30 frames per second, and the realism has never been more stunning."
During this initial launch, the price for Invisibility 3D is $0.99 US at Apple's App Store.
COMPATIBILITY
Invisibility 3D, a universal app, runs on every iOS device currently sold by Apple. It is recommended for the iPad mini, iPad with Retina Display, iPad 2, iPhone 5, iPhone 4S, and the new iPod touch.
ABOUT LEVITY NOVELTY
Levity Novelty LLC of Sebastopol, California makes magical apps to startle and delight and develops technology for scientific and entertainment uses.
Levity Novelty's earlier two dimensional Invisibility app for the iPad 2 made a sensation in the summer of 2011, quickly becoming the App Store's Top Paid iPad Entertainment app, earning raves from Gizmodo – "High on the wow factor" – and numerous others.
Dr. David Levitt is the manager of Levity Novelty LLC. Levitt was previously founder and CEO of Hip Software and ConnectedMedia. ConnectedMedia's ConnectedTV app – one of the first "touch" apps designed to tap and stroke with your fingers — turned a Palm PDA or phone into a web powered, personalized TV guide and remote control. Levitt has been a research scientist and software developer at the MIT Media Lab, Atari, Viacom, VPL Research and Interval Research. He received his doctorate in Artificial Intelligence from MIT and his BS from Yale. He is on the board of Kestrel Technology in Palo Alto.