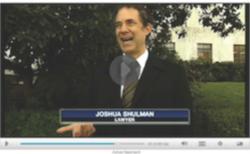 Increasing the civil penalties for hit and runs brings us one step closer to justice for these victims.
Portland, OR (PRWEB) March 14, 2013
The Oregon House of Representatives passed House Bill 2542 on Monday with 57 aye votes and 0 no votes (3 were excused). This unanimous passage of the Bill is greatly appreciated by its supporters, especially those who have lost loved ones to hit and run accidents.
"As a lawyer, it is my great privilege and honor to be allowed to sit with injured people – or, when they're terribly injured, or killed, with their families. Increasing the civil penalties for hit and runs brings us one step closer to justice for these victims," Portland attorney Joshua Shulman said. Shulman was one of four people to testify for BH2542 before the Judiciary Committee.
HB 2542, if passed in the Senate, will increase the civil penalty for those convicted of serious injury hit and runs. If someone "fails to perform the duties of a driver" and leaves the scene of an accident, it is a crime (ORS 811.705). If the victim in the accident is seriously injured (as defined by ORS 161.015), HB 2542 increases the time period that the driver's license can be revoked from one year to three years. The penalty for a fatal hit and run will remain five years without a license.
This House Bill was sponsored by Representative Chris Garrett (D – Lake Oswego). Garret said he got the idea for the bill after reading about hit-and-run victim Robert Skof in The Oregonian last year. Skof was badly injured and the drunk driver left the scene, but eventually the driver turned himself in to Portland police. Skof received a settlement with the help of his Oregon hit-and-run lawyer Sean DuBois.
House Bill 2542 includes proposed amendments to ORS 809.409, adding a section that reads:
"(3)(b) The department shall revoke driving privileges under this subsection for a period of three years if the court indicates on the record of conviction that a person sustained serious physical injury, as defined in ORS 161.015, as a result of the accident. The person may apply for reinstatement of privileges three years after the date the person was released from incarceration, if the sentence includes incarceration. If the sentence does not include incarceration, the person may apply for reinstatement three years from the date the revocation was imposed under this subsection."
In an interview with KPTV, Fox 12 News, Portland attorney Joshua Shulman explained why he supported HB 2542: "I'm here because in my view, if you hit and run and kill someone, I don't think Oregon should ever give you your license again. And if you cause someone a serious injury, to the point where they could have died, then I think they should lose their license for at least 20 years. But this is a good first step."
Two of the other people who testified for the Bill have lost family members from hit and runs in recent years. According to an article published December 21, 2011, in The Oregonian, Kristi Finney's son Dustin Finney was hit and killed in August of 2011. He was riding his bicycle at the time, and the driver has since been sentenced to five years in prison. Finney believes, like Shulman, that if hit-and-run penalties were harsher, then drivers would be less likely to leave the scene of the crash. Tammi Beers, who also testified,lost her son Harley Rocher, 18, in January 2013 and the driver has not yet been found, according to the article published January 15, 2013 by the Portland Tribune.