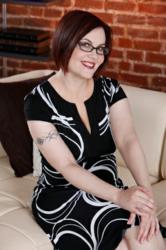 (PRWEB) March 15, 2013
This Friday on Tristan Taormino's show at 5pm PT / 8 pm ET, there will be a very special author show! The entire hour will be devoted to the celebration of hot literature and featuring authors and editors: Kristina Wright, Shanna Germain, Sacchi Green, Alison Tyler, and Delilah Devlin. They won't just be talking about writing, but also reading some of the steamiest passages from these authors' best books and best stories. Tune in for an intimate hour with five amazing rock stars from Cleis Press.
Described by The Romance Reader as "a budding force to be reckoned with," Kristina Wright is a full-time writer and the editor of the bestselling Fairy Tale Lust, as well as other Cleis Press anthologies including Dream Lover; Steamlust; Lustfully Ever After; Duty and Desire and the Best Erotic Romance series. Kristina's fiction has appeared in over one hundred anthologies and her articles, interviews and book reviews have appeared in numerous publications, both print and online. She will be at Catalyst Con East on March 15th in Washington, D.C. with Rachel Kramer Bussel discussing "How to Become a Successful Erotic Writer."
Shanna Germain claims the titles of writer, editor, leximaven, vorpal blonde, and schrodinger's brat. With a whole lot of writing years under her belt (or her collar, depending on the day), Shanna's poems, essays, short stories, novellas, articles and more have found homes in hundreds of magazines, newspapers, books and websites. Find her at Dragon Con and teaching workshops on writing.
Sacchi Green is a Lambda award-winning writer and editor of erotica and other stimulating genres. Her stories have appeared in scores of publications, including scores of Cleis Press anthologies and Penthouse. She was recently nominated for a 2013 Lambda for Fast Girls.
Called a "Trollop with a Laptop" by East Bay Express, a "Literary Siren" by Good Vibrations, and "over caffeinated" by her favorite local barista, Alison Tyler has made being naughty a full-time job. Her sultry short stories have appeared in more than 100 anthologies including Morning Noon and Night, Liaisons, and Bedding Down. In all things important, she remains faithful to her partner of 17 years, but she still can't choose just one perfume.
Delilah Devlin is an award-winning author of romance with a rapidly expanding reputation for writing edgy stories with complex characters. Ms. Devlin has published over a hundred and twenty stories in multiple sub-genres and lengths. Find her at the Romantic Times Convention in May, 2013.