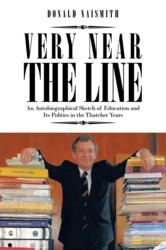 The forces unleashed by Mrs. Thatcher's revolution... continue to shape and determine education today.
TOULOUSE, France (PRWEB) March 20, 2013
During the eleven years of Margaret Thatcher's premiership, education in England was transformed by her determination to reorganize the state sector along public school lines, and in so doing to remove local councils from the partnership role they had always played in the national system.
Throughout this time, Donald Naismith was the Director of Education for three of them, where he came in Lord Denning's words 'very near the line' in pursuing policies central to Thatcher's revolution, but opposed by both the 'right' as well as the 'left' wings of the education establishment which stood in the way.
Naismith's recollections of these experiences are assembled in his newly released debut book, Very Near the Line: An Autobiographical Sketch of Education and its Politics in the Thatcher Years.
In this memoir he highlights the extent to which she unwillingly relied on local councils themselves to provide the practical means of putting her reforms into effect - among them Richmond's 'league tables', Croydon's 'national curriculum' and standardized tests and Wandsworth's specialized schools.
Naismith contends that Thatcher was mistaken in regarding local councils as irremediably and inherently obstructive, and that her reforms would have made more headway had she enlisted their cooperation instead of fatally weakening them, a wrong turn made all the worse for being taken by an over-centralized system. Looking forward (while considering the lessons of the past), Naismith predicts that, paradoxically, a new, more powerful version of local government will need to be invented if her 'market' strategy is to succeed.
In spite of the advance of Thatcher's marketization policies, England's education system remains firmly in the 'command and control' mindset bequeathed by its Victorian creators. If the major policy issue facing educators today - how can higher standards keep pace with rising expectations in times of ever relatively declining resources - is to be successfully resolved, Naismith argues that we must abandon our over-reliance on central direction and control in favor of new forms of incentives at every level in terms of teaching methods as well as institutional organization, and replace age-related and length of study with the achievement of goals as the basis of educational planning.
For more information, visit http://www.authorhouse.com.
Very Near the Line: An Autobiographical Sketch of Education and its Politics in the Thatcher Years
By Donald Naismith
ISBN: 978-1-4772-4596-5
Softcover, retail price: $15.18
Hardcover, retail price: $27.45
E-book price: $3.99
About the author
Donald Naismith was brought up in Bradford in the West Riding of Yorkshire. He was educated at Belle Vue Boys' Grammar School and Clare College, Cambridge, where he held an Open Exhibition in History. After a spell of teaching at Crown Woods Comprehensive School, Greenwich, he entered education administration in Bradford. Between 1974 and 1994 he was successively director of education for the London Boroughs of Richmond upon Thames, Croydon, and Wandsworth, whose policies helped to shape and advance Margaret Thatcher's educational reforms. On his retirement, he was appointed CBE and Chevalier des Palmes Académiques. Married with three children, he lives in France with his wife, Jackie.
# # #