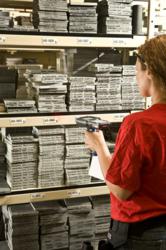 TVision's experience and reputation in the Dynamics NAV channel means we are confident that there will be many more satisfied Tasklet Factory customers in the UK, one of our key markets
(PRWEB UK) 20 March 2013
TVision Technology, Microsoft Dynamics NAV Gold Partner based in Surrey, has partnered with Danish company Tasklet Factory to deliver a mobile warehouse management system (WMS) that fully integrates with Dynamics NAV.
The Tasklet Factory solution extends the strong warehouse management functionality inherent within Dynamics NAV. Warehouse staff use a mobile device that enables them to receive and input data directly from the Dynamics NAV database thus increasing efficiency and reducing errors. The mobile device has a user friendly graphics display which can be configured in terms of language, functions and data.
Where a warehouse does not have comprehensive wifi coverage, the Tasklet Factory solution can function partly or fully offline if required, updating information as soon as connection is resumed.
"Tasklet Factory is the most impressive mobile solution for Dynamics NAV that we have seen," Richard Thompson, MD, TVision Technology. "NAV has a large user base in wholesale and distribution industries; where large amounts of cash are tied up in stock, companies naturally look for technology that makes the warehouse as efficient as possible. Tasklet Factory has demonstrated that it can do this."
Based in Denmark, the home country of Dynamics NAV, Tasklet Factory has over ten years' experience of developing mobile solutions that integrate with Dynamics NAV; solutions that have been implemented in sites across the world and with a growing presence in the UK.
"Tasklet Factory are very pleased to have gained TVision Technology as a partner. TVision's experience and reputation in the Dynamics NAV channel means we are confident that there will be many more satisfied Tasklet Factory customers in the UK, one of our key markets. " Ole Kristensen, CEO, Tasklet Factory.
Surrey based TVision Technology is a Microsoft Gold ERP Partner. Established in 1999, TVision has clients throughout the UK as well as managing multiple projects at clients' overseas locations. TVision has always focused exclusively on Dynamics NAV and has developed three Dynamics NAV based market solutions: Wholesale Distribution for the wholesale distribution industry, The Wine System for the wine and drinks distribution industry and Agency Time for the recruitment industry.