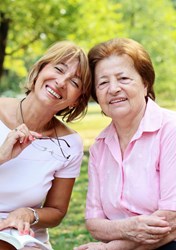 With today's tools, technology and other resources, many seniors can safely age in place longer.
Neenah, Wis. (PRWEB) March 20, 2013
The position of home health care aide is the single fastest growing job in the United States, according to a March 11 CNN Money article. And with about 8,000 baby boomers turning 65 every day for the next 18 years, says the AARP, there's no sign of this trend slowing. Fortunately, advances in home caregiving can help seniors live at home longer and do so more affordably, according to Lynn Wilson, Founder of The CareGiver Partnership.
"Research shows 85 percent of seniors want to stay in their homes, and manufacturers and service providers are adapting to this growing need for tools that allow them to do so for as long as possible," says Wilson, whose company offers products, services, and resources for seniors and family caregivers. "In-home care now is easier with advances in several areas."
Care alternatives: Today families can choose from independent caregivers, professional agencies and even, in some cases, respite care offered by state and nonprofit organizations, such as those focused on assisting seniors with Alzheimer's, U.S. veterans and more.
Technology: High-tech monitoring and alert tools can help reduce costs by decreasing the number of visits by in-home caregivers. Examples include the Philips Lifeline medical alert service, big-button amplified telephones, and Internet-based monitoring.
Home modifications: Options include floor-to-ceiling security poles and curved grab bars, which can be installed anywhere in the home. Bathrooms should include safety features like grab bars, bath benches, elevated toilet seats and nonskid flooring. Other safety and mobility products include bed rails, crutches, couch canes, and portable handles for getting in and out of vehicles.
Home delivery services: Doorstep delivery can cut back on paid caregiver visits and shopping trips, while giving family caregivers peace of mind. From adult diapers and other incontinence products, to diabetes supplies or even freshly prepared meals, home delivery convenience often outweighs the costs.
Tax credits and deductions: These options may be available to the elderly and their families depending on how taxes are filed. Tax advisers and financial counselors may be able to provide more information.
"With today's tools, technology and other resources, many seniors can safely age in place longer," says Wilson. "However, there may come a point where a higher level of care is needed or in-home care costs are nearing facility costs. When this 'break-even point' is reached, family members should discuss options and next steps."
Visit The CareGiver Partnership to download a free home safety guide, "It All Starts with a Fall," or visit our blog for hundreds of articles on senior care and aging in place.
The CareGiver Partnership is a national direct-to-consumer retailer of home healthcare products for incontinence, diabetes, nutrition support and more. In its seventh year of providing products and services that help caregivers and loved ones maintain personal dignity, the company also offers an online library of more than 1,400 family caregiver resources and personal service by experts in caregiving. Call 1-800-985-1353 or visit online at http://www.caregiverpartnership.com.