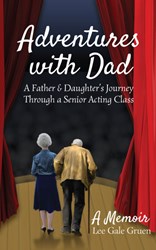 [Dad] was a unique man who hurtled through life like a geologic force, depositing gold nuggets for me to mine.
Los Angeles, CA (PRWEB) March 21, 2013
Adventures With Dad: A Father and Daughter's Journey Through a Senior Acting Class, is a memoir by author Lee Gale Gruen. It begins when she retired at the age of 60 from her 37-year career as a Probation Officer. Just as a pastime, she started attending a senior theater class at a community program for older adults. Her mother died a few weeks later, so she invited her grief-stricken father, age 85, to come to the class with her.
With humor and emotion, Lee Gale recounts this true story of their magical journey attending that class together for three years and bonding more than at any time in their lives. Lee Gale wrote the comedy scenes they performed onstage twice a year in the class showcases. The father-and-daughter team became a popular item with their adoring audiences. Included in the book are all six scenes along with her motivation and the process of writing them, rehearsing them with her dad, and gathering the props.
Lee Gale eventually transitioned from the class to become a professional actress. As her fledgling, second career started going uphill, her dad's health started going downhill. Nevertheless, their paths continued to merge over their shared interest in acting. Lee Gale would describe to him each of her new experiences while she sat beside his bed at the nursing home where he resided in his final years.
The publisher is: AuthorMike Ink. Learn more about the book and author by clicking here on the book's website: http://www.AdventuresWithDadTheBook.com
This heartwarming, poignant story of the love and bond that grew between a father and daughter, both in their later life, as they attended a senior acting class together, will resonate with Baby Boomers, seniors and their family members and friends everywhere.
Lee Gale Gruen speaks publicly about her book and about inspiring Baby Boomers and seniors to find something to be passionate about as a motivation to embrace life. She also blogs under the title: "Reinventing Myself in My Senior Years."
This book is available for purchase in paperback or eBook formats at Amazon.com, other online booksellers, the publisher's website, or can be ordered through local bookstores.
Contact author, Lee Gale Gruen, at:
Email: gowergulch(at)yahoo(dot)com
Website: http://www.AdventuresWithDadTheBook.com