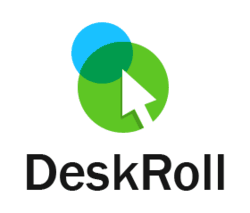 'Easy to use and functional - that's what DeskRoll is all about', says Max Osokin, SkyFex Inc. marketing officer.
Cupertino, CA (PRWEB) March 21, 2013
SkyFex Inc. makes the new DeskRoll Remote Desktop 1.1 available at https://deskroll.com DeskRoll is a new generation web-based remote access tool. Customers use DeskRoll to access user-operated or unattended computers and remotely help users, do troubleshooting and regular maintenance. DeskRoll is designed with security, ease of use and availability in mind.
Ease of Use
DeskRoll is easy to use for remote help providers, in several aspects:

Account creation takes literally seconds.
Nothing to install for remote experts/technicians, no plug-ins or applications.
It takes seconds to set up access to unattended computers.
Easy for the remote customers. They run a small app with no extra controls or options to configure. The entire process is quick, streamlined and predictable.
Mobile Devices Support
DeskRoll offers the same look and feel for desktop and mobile devices. Not only the iPhone, the iPad and Android smart phones and tablets are supported. DeskRoll works on any device that has an Internet connection and a modern web browser. It may be your camera, a vacuum cleaner, etc.
Management Features
It's easy to do everything from the web: manage user contacts and connection history, generate session reports and invoices, use built-in IM-chat and system info and utilize many other useful features.
Flexible Pricing and Licensing
DeskRoll offers essentially simple and flexible licensing and affordable pricing ($29.95 per month or $299.5 per year). A free 30-day trial without feature limits is offered to every customer at https://deskroll.com
Security
All connections are made via HTTPS, and 256-bit encryption is used. Remote user gives an explicit permission to access their PC and maintains full control throughout the session.
About SkyFex Inc.
SkyFex Inc. has over 5 years of experience in building secure and versatile helpdesk tools. We have profound understanding of the needs of helpdesks and IT companies as well as expert knowledge in making cutting-edge rich Internet applications.