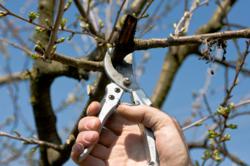 "Trees are big investments to any property, and with our professionally trained and certified arborists on staff our goal is to help our customers maintain their investments," says Tony Fisher, General Manager of Senske's maintenance division.
Kennewick, WA (PRWEB) March 21, 2013
Arborists at Senske Lawn & Tree Care, a division of Senske Services, are urging homeowners to act now to prevent problems later with trees and shrubs. They recommend professional pruning for ensuring tree health, safety and longevity. They also say shaping and thinning trees and shrubs can make a dramatic impact on a home's appearance.
Trees and shrubs are valuable parts of a home's landscape. Shade trees in particular provide a cooling effect for both houses and yards. Maintaining a natural canopy while allow filtered sunlight and air to move through the shade trees will provide the best results.
Well-maintained trees also provide curb appeal to enhance property value.
Like lawns, trees need periodic maintenance to keep bugs – and danger - at bay. Professional pruning can provide targeted tree service to control damaging insects on select trees and shrubs. It can also protect against storm damage and the danger of falling limbs.
Homeowners who aren't up to the task of properly pruning their own greenery can turn to trained arborists and technicians like the ones at Senske Services. Senske's pruning division is available to improve the shape and growth of valuable trees and shrubs. For a limited time, they are offering customers $50 off pruning services.
About Senske Services:
Senske Services, Inc. is a leading lawn, tree and pest control service provider that is locally owned and operated. It has been a trusted source of lawn, tree and pest control services for more than 65 years across Eastern Washington, Idaho, Utah, and Las Vegas with its corporate office based in Kennewick, Washington. To see what Senske Lawn & Tree Care can do for you, visit http://www.Senske.com.