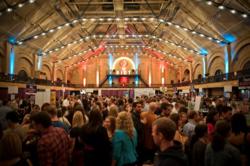 Boston, MA (PRWEB) March 21, 2013
WHAT: On April 5th, 2013 & April 6th, 2013, Second Glass will kick off its 2013 Wine Riot back where it all started on its home turf in Boston, MA at The Boston Park Plaza Castle located at 50 Arlington Street.
Wine Riot, a unique wine tasting experience created by Second Glass, a company that helps people discover new wines, remember what they drink and share that info with their friends by bringing wineries and wine drinkers together through technology and in-person events, will be invading the Park Plaza Castle on April 5th, 2013 & April 6th, 2013.
Wine Riot grew from one simple concept; to create a fun, non-intimidating place where people could learn about wine and have an amazing time while doing so. In 2008 founders Tyler Balliet and Morgan First rolled the dice, maxed out all their credit cards, called in every favor they had and launched their first ever Wine Riot event in Boston, MA. The event was an instant success and has since spread across the country with Wine Riot events popping up in Washington D.C., Chicago, IL, San Francisco, CA, New York, NY and Los Angeles, CA.
"At Wine Riot we want everyone to figure out what they like by learning about, discovering, and tasting new wines. Wine experts are at each booth to answer any and all questions and we even built a free mobile app so people can easily remember every wine they taste.
This year, I'm especially excited about the brand new Bubbly Bar. It's our own creation and we'll be pouring different kinds of sparkling wines from all over the world ncluding Cava, Prosecco, and of course Champagne.
We built this event so people could explore all kinds of wine under one roof. We even lay the event out by geography so you can literally walk from France, to New Zealand, to California. Everyone has questions about wine, whether simple or complex, and at Wine Riot, we have experts there to answer them all," said Tyler Balliet, Founder of Second Glass
Guests can look forward to tasting over 250 wines from across the globe while tagging, rating and remembering them for later purchase using the free mobile app (http://secondglass.com/wineriot/mobile/), chips provided by Food Should Taste Good®, interactive booths staffed by the industry's premier wine experts, 20-minute crash course seminars offered throughout the riot from industry experts like John Hafferty of Bin Ends Wine and Second Glass founder Tyler Balliet, music by DJ Andie Cassette, (http://www.myspace.com/thisiscassette) and a pop-up photo booth to ensure guests capture their "good side" before dropping their images on social media using the hashtag #WineRiot live from the event!
Guests can also munch on some mouthwatering food pairings for a few extra bucks ($5-$10 average) from vendors such as KO Catering and Pies, M&M's BBQ Ribs and Roxy's Grilled Cheese to name a few!
Extra Special Highlights for 2013: Special Educational Booths
Wine Cocktails - Quady Winery will be mixing tasty elixirs made from handcrafted, small batch California Vermouth and Moscatos.
Bordeaux Wines – Learn the storied history of France's most famous wine region and taste these amazing, reinvented, small production wines.
Loire Valley – Taste your way down France's Loire River, through Sauv Blancs of Sancerre, red wines of Chinon, and the tasty and affordable Muscadets wine wines, perfect with seafood.
Languedoc - Uncover France's worst kept secret; the red and white wines of Languedoc are outstanding and super affordable.
Bubbly Bar – All Champagne is bubbly, but not all bubbly is Champagne. Taste every major kind of sparkling wine from five countries.
Wine 101 with Bin Ends - Learn the wine basics by tasting them! Experts from Boston Magazine's top wine store of 2012 will be teaching while you taste.
WHEN: April 5th, 2013 – April 6th, 2013 (You have three chances to experience Wine Riot while the tour is in Boston, MA!)
Opening Night Event: Friday, April 5th, 2013: 7PM to 11PM
Riot 1: Saturday, April 6th, 2013: 1PM to 5PM
Riot 2: Saturday, April 6tht, 2013: 7PM to 11PM
WHERE: The Boston Park Plaza Castle, 50 Arlington Street, Boston, MA
TICKETS: Prices for Wine Riot are $60 and all wine is included in ticket price.
For tickets and more information visit: https://secondglass.com/wineriot/boston-2013/tickets/
APP: Don't forget to navigate the event like a pro with the Second Glass mobile app (http://secondglass.com/wineriot/mobile)! Rate and remember every wine and find the wines you love in stores!
###
About Wine Riot:
Wine Riot is your all access pass to hundreds of new wines. With two parts education and one part revolution, Wine Riot has reinvented "wine tasting" for the thirsty and curious. Grab a glass and hit the floor -- it's you unleashed against 250 wines from across the globe. Travel the world of wine all under one roof and tackle things you've never tried before. Learn from a team of die-hard experts that bring you the brain juice via: interactive booths and crash courses loaded with tips and tricks for conquering the wine world. Fueling your night of conquest is a tireless DJ, photo booth, temporary tattoos, and a few thousand of your closest friends. Use a mobile app that tracks your favorite wines and shows you where to buy them later, arming you with all the tools needed for total wine domination.
About Second Glass:
Second Glass brings wineries and wine drinkers together through social media and in-person events across the nation by helping people uncover their new favorite wines, remember what they drink and share all of that fabulous info with their friends. Second Glass develops online and mobile tools for both wine consumers and producers. They also host Wine Riot, a huge, innovative and interactive wine event in six cities across the US. Second Glass makes wine easier to fathom in a fun and relaxing environment to enjoy; all with the goal of getting people to drink more wine. Visit secondglass.com to see what it's all about.