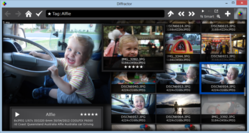 79% of people surveyed keep their photos and videos on a desktop or laptop computer.
Prague, Czech Republic (PRWEB) March 22, 2013
Our modern digital devices are causing an explosion of personal digital media.
79% of people surveyed by the Diffractor project still keep the master copy of their photos and videos on a desktop or laptop computer. For those users, backup strategies varied with 72% reporting local network or external hard drive and a low 18% using a cloud service.
Everyone understands the benefits of keeping data online however many people reported the large size of photos or videos makes keeping them in the cloud expensive or slow.
In the home, we are moving to a future of multiple devices. Tablets and other media consumption devices don't contain much storage so media collections typically become located on some sort of hub, existing computers or network storage.
This digital hub concept has been understood for a long time however many predict the cloud will replace local storage. Services like iTunes Match are a good example allowing music to be stored in the cloud. The future for personal photos and videos is more complex as matching is not possible. More cameras support high megapixels and HD video making files sizes extremely large.
For the digital hub of today it is often easier to do the heavy lifting of organizing your collection on the trusty old PC. That is the strategy behind Diffractor, a new Windows Desktop App.
Diffractor understands most file formats and compliments other media applications. It highlights where metadata is missing allowing you to continuously improve the structure and searchability of your collection. It is free to use but commercial and regular users are requested to sponsor the project.