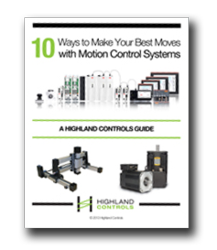 We created the guide to help business executives ... make the best investments in technology.
Richfield, Ohio (PRWEB) March 21, 2013
Highland Controls, a distributor of motion controls, today released "10 Ways to Make Your Best Moves with Motion Control Systems," a free industry guide that companies can reference when designing and implementing a motion control system.
The guide, which covers many topics and scenarios, includes key considerations that companies should explore when investing in products ranging from stepper, servo, and induction motors to inverter drives and motion controllers.
Get the guide here:
http://highlandcontrols.com/motion-control-systems/
Here are a few highlights:

A motor may meet the torque and speed requirements, but it may have too low of a rotary moment of inertia, and your motor will not be controllable.
If you only have a single axis, but still need higher level programming, then you can get a drive with a full-blown motion controller built into it.
It is best to look at the motor requirements, then select the proper motor after looking at the speed and torque curves of motors.
"We created the guide to help business executives think through their choices so they make the best investments in technology," Highland Controls President Brian Beal says. "It's important to consider all of the facts and implications when addressing motion control challenges."
The guide explores such topics as:
Machine controller types
Component selection
Machine commissioning
Motor sizing
Autotuning
Maintenance personnel
About Highland Controls
Located in Northeast Ohio (Akron/Cleveland) , Highland Controls, LLC is a distributor of industrial motion control and related products. We pride ourselves on being able to assist our customers, from product selection to application programming. Our primary territory includes Northern Ohio, Western Pennsylvania, Northeast Indiana, and Southeast Michigan, but we will travel most anywhere in the world based on our customers' project needs.
We like to take on projects that others are unable to do. Motion control and machine vision are just a couple of our specialties.
Highland Controls supports companies in many ways - whether they need to integrate a stand-alone controller for a small machine or integrate an industrial motion controller, PLC, and PC with a LabVIEW interface and data acquisition. Although we provide products from the lines we carry, we can recommend other products that may be a better fit for a company's latest project.