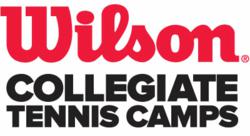 "We are excited to work with Todd Martin Tennis. This camp will allow young players a chance to learn from a coach who has both played and coached at the highest level. That is unparalleled in tennis camps today."
JACKSONVILLE, Fla. (PRWEB) March 23, 2013
Wilson Collegiate Tennis Camps is proud to announce their partnership with Todd Martin Tennis for a camp session Aug. 4-8, 2013 at the University of North Florida. Wilson Collegiate Tennis Camps is looking forward to collaborating with Martin's professional and coaching skills to bring personalized instruction and a great camp experience to Florida players.
Martin, who reached #4 in the world in ATP rankings, is a two-time Grand Slam finalist and former collegiate player at Northwestern University. Since his retirement in 2004, Martin has coached top players Mardy Fish and Novak Djokovic as well as several top junior players. Martin has also continued his commitment to tennis and service through his work with his foundation for at-risk youth, The Todd Martin Development Fund, which he founded in 1994.
"We are extremely excited to work with Coach Todd Martin. His experience as a player and as a coach is unparalleled in the camp business. Not many coaches have the breadth of experience in the game of tennis. His experience teaching players from beginner to World #1 (Novak Djokovic) is a tremendous asset to our camps," said Premier Sports Camps president David Schilling.
Premier Sports Camps / Wilson Collegiate Tennis Camps, has been offering their comprehensive tennis curriculum to campers since 1992. The Wilson Collegiate Tennis Camp experience is characterized by experienced coaching staff and camp directors made up exclusively of collegiate coaches and players, individual attention provided to campers and emphasis on fundamentals and match play for players of all levels.
Coach Martin is also eager to be bringing the Wilson Collegiate Tennis Camp experience to youth players this summer.
"I grew up in a college town and experienced the joys and benefits of summer camp as a child. Providing an experience for young athletes to develop their skills, understanding and enjoyment of tennis while on a college campus is a treat for me. I'm looking forward to this camp inspiring new tennis players toward a love for the game and motivating future college tennis players after they experience a Division I program firsthand. Coach Adam Schaechterle and the North Florida tennis program are the perfect partners for TMT," said Martin.
Todd Martin Tennis was founded in 2012 with the goal of developing players locally and globally. Todd Martin Tennis offers instruction and consulting for players of all levels and seeks to enrich young players' lives though collaboration and instruction from experienced coaches.
Todd Martin Tennis' Wilson Collegiate Tennis Camp will be co-directed by Adam Schaecterle, Head Men's Tennis Coach at the University of North Florida. The camp session, which has both overnight and half day options, will provide campers with approximately four hours of tennis daily in addition to Coach Martin's own core cross training program. Overnight campers will also enjoy evening social activities, creating the perfect balance of training, competition and fun.
For more information about Todd Martin Tennis' Wilson Collegiate Tennis Camp, including pricing options and how to register, visit the Todd Martins' Wilson Collegiate Tennis Camps website at http://www.wilsontenniscamps.com/.