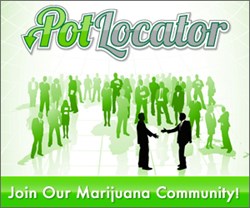 "With the growing demand of patients trying to locate medical cannabis collectives near their area, we are striving to supply patients with as many formidable options as is possible." -John Nicolazzo, C.O.O. of PotLocator
(PRWEB) March 31, 2013
A prominent subsidiary of The Medical Cannabis Network, PotLocator.com has announced the additions of three new clients to their steadily growing roster of reputable medical marijuana businesses. In a time where many canna-businesses are attempting to heighten their overall marketing ceiling yet falling short with volatility, PotLocator remains in constant control of their consistent and patient efforts to attract new businesses to their site. By noticeably maintaining their top-tier caliber services for locating medical marijuana dispensaries, the company never strays for a single moment in their mission to provide top-notch services to patients within the medical marijuana industry.
Up-to-date additions of distinguished canna-businesses to the already stacked PotLocator roster of clientele include Earthy Delight Association, Sebastopol Compassionate Care Delivery and Peace in Medicine Healing Center. Honored to establish the PotLocator name as a fortified home for professional canna-businesses, the company continues to subsidize and increase the growth of their already bona fide roster of nearly 6,000 members. With the recent accession of these medical marijuana establishments, PotLocator will feature them alongside some of the industry's finest geo-targeted medical marijuana dispensaries, collectives, smoke shops, hydroponics shops and medical marijuana attorneys.
The Earthy Delight Association is a medical marijuana delivery service that features over twelve different types of marijuana strains, varying from Indicas, Sativas and hybrid lineages. The Earthy Delight Association also carries a variety of different types of concentrates, edibles and tinctures. This delivery service is located in Oceanside, California and provides its exceptional services to the surrounding towns and cities of Escondido Junction, Yaldora, Oceana, Carlsbad, Talich, Stuart and San Luis Rey. All deliveries completed by this location are conducted in the most discreet, professional and confidential manner so patients are ensured they are steered clear from any scrutiny.
Sebastopol Compassionate Care Delivery is another medical marijuana delivery service that provides California Proposition 215 patients with the highest quality and top-notch medicine. Located in Sebastopol, California, this delivery service extends its timely-fashioned and confidential services to the surrounding towns and cities of Roseland, Santa Rosa, Rohnert Park, Windsor, Healdsburg, Petaluma and Sonoma. Sebastopol Compassionate Care Delivery is always within compliance of all California medical marijuana bylaws, and provides patients with nothing short of exceptional customer service.
Peace in Medicine Healing Center is a Californian medical marijuana dispensary that features a location in Sebastopol and another in Santa Rosa. This location provides Proposition 215 patients with the safest access to medicine, cannabis education and one of the friendliest and compassionate environments. Peace in Medicine Healing Center features locally grown medicine, concentrates and edibles that are made available to qualified patients. The primary goal of this location is to advocate and support a proactive approach to proper health management all while maintaining standards of locality, affordability and completely confidentiality. Please note that this location extends its services to the surrounding towns and cities of Sonoma, Novato, Napa, San Rafael, Santa Rosa, Roseland, Larkspur and Vallejo.
With the announcement of these locally-acclaimed medical marijuana locations, it is evident that PotLocator remains in complete control of their destiny and shows no signs of slowing down. PotLocator will be announcing its most recent additions to their clientele roster of canna-businesses as they are added to company system. As PotLocator continues to gain ground on other top-tier medical marijuana dispensary locators, they leave behind their competition in an attempt to take the industry by storm.