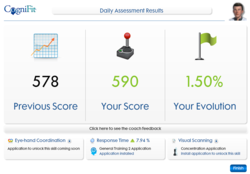 People often wonder how long they should train to gain cognitive benefits. Today we have new data that shows how after 6 months of training, the cognitive gains will be not only be significant but also probably be noticeable by users in their daily life.
New York, NY (PRWEB) March 26, 2013
CogniFit – Using its extensive and cognitive database, CogniFit found that people who engage in a number of brain training sessions beyond 6 months experience unexpectedly extensive cognitive benefits across a wide range of cognitive abilities. The study also demonstrates how consistent and regular cognitive training can be effective to train cognitive abilities. Individuals who took 14 cognitive training sessions experienced important cognitive benefits. Still, people who trained over a greater number of weeks (up to 70 sessions) experienced much greater cognitive benefits. Improvements can be found in a large number of cognitive abilities such as shifting, inhibition, eye-hand coordination, response time and working memory.
The study was conducted for both short and long training durations on 32, 218 individuals. Five groups of individuals which engaged in continued cognitive training were evaluated every 14 sessions on the CogniFit brain fitness program. The study compared individuals who trained for 14 sessions with 4 other groups of trainees: people who trained for 28 sessions (2 training cycles), for 42 sessions (3 training cycles), for 56 sessions (4 training cycles) and for 70 sessions (5 training cycles). No known studies have explored the effects of so many successive brain training cycles on cognition. A common, if untested belief, is that training should stop for a few days or weeks to allow for consolidation of new learning. The present results however showed that uninterrupted brain training allows cognitive function to steadily improve cognition from one training cycle to another. Groups that had trained for 5 or 6 cycles eventually tripled the gains obtained compared with one training cycle.
Mr. Carlos Rodriguez, CTO at CogniFit, explains: "People often wonder how long they should train to gain cognitive benefits. Previous studies show significant improvements after 3 months of training. Today, we have new data that shows how after 6 months of training, the cognitive gains will be not only be significant but also probably be noticeable by the users in their daily life. Cognitive training is fun, relaxing and most important, if practiced over long periods of time, does improve cognitive functioning significantly. The results are a clear-cut and constitute an important finding to fight age-related cognitive decline."
The study also showed that 98% of all individuals who engaged in cognitive training during one training cycle had improved on, at least, one cognitive ability. By the time they reached 5 training cycles, all individuals (100%) had improved on at least one single cognitive ability. Thus, the study shows that not only cognitive benefits do continue to grow with longer-duration training but that at the same time, the number of people who improve their performance from cycle to cycle also grows, until all participants improve their cognitive performance.
Who are the people who persevere and continue to train for more than 4 cycles? The results show that the same proportions of men and women do. However, the groups that continue to train with more consistency have usually a larger proportion of people aged over 50 even if younger adults are also represented. It is possible that increased perseverance in these groups answers a perceived need to correct declining cognition, which usually occurs after 40 years of age.
About CogniFit
CogniFit (http://www.cognifit.com) is a leading developer of online brain fitness and brain training programs.
Founded in 1999, CogniFit has developed a unique and patented technology that allows consumers to assess and train their cognitive skills and abilities to improve their quality of life. CogniFit is headquartered in New York City with branches in Europe.
The CogniFit brain fitness platform offers a number of applications covering a large range of important cognitive domains such as concentration, memory and attention. The CogniFit website is currently available in more than 55 countries and in 10 different languages including English, Spanish, French, Italian, German, Brazilian, Portuguese, Dutch, Arabic and Japanese. CogniFit applications also available on mobile.
For additional information or interviews inquiries, contact the PR department at media(at)cognifit(dot)com