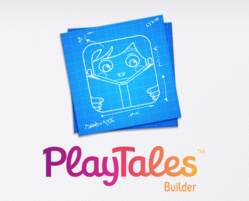 We are giving people the power to digitize and distribute their own stories...and get 100% of the profits.
New York City, New York (PRWEB) March 26, 2013
DADA Company was named the Fiction category winner of the BolognaRagazzi Digital Awards at the 2013 Bologna Children's Book Fair this month. The winning story was "Four Little Corners" and was digitally published using PlayTales Builder, a high-tech publishing software system. DADA Company, a Spanish Kids Publisher, develops iOS and Android based interactive children's books and currently has various PlayTales-built stories available on the App Store.
David Yerga, CEO of DADA Company, comments on the company's experience using PlayTales Builder, "The PlayTales Builder is a fantastic publishing software program. It makes the process of creating digital books in various languages and across multiple platforms both easy and efficient. The software allows a huge range of options for creating interactive books for kids and we are very pleased with the results."
The tech team at PlayTales has spent the last two years developing and improving PlayTales Builder to produce very high-quality interactive eBooks. After a year of beta testing and working with various publishers, the company feels that now is the time to officially launch the software program.
"The great thing about PlayTales Builder is that it is easy to use. You don't have to be a programmer to create interactive digital stories," comments Enrique Tapias, CEO of PlayTales. "This is the same software we use to create and add stories within our own applications; anyone can check out our bookstore apps to get an idea of the potential this software offers."
Builder is designed with authors, illustrators, and publishers in mind; there are various step by step instructions, examples, and discussion forums, designed to help users get the best out of their Builder experience. Builder is based on a credit system wherein users select a licensing package based on their needs and budget. Users can choose between various mobile platforms for distribution as well as various languages.
"We are giving people the power to digitize and distribute their own stories. They purchase the license, publish the story, distribute and sell it through the mobile platform of their choosing, and get 100% of the profits. It's a dream come true for anyone who wants to go digital with their book," comments Martin Llera, head developer of the PlayTales Builder.
With the children's digital content and eBook sectors showing continued growth, going "digital" is a business route which all publishers and authors should consider. Based on DaDa Comapany's recent success using the PlayTales Builder to create their award winning interactive eBook, it is evident this software program can be a great tool for anyone seeking maximized eBook distribution, revenue generation, and overall high digital quality.
About PlayTales:
PlayTales is a wholly-owned subsidiary of Genera Interactive, an internationally based multi-platform mobile entertainment and utilities provider with offices in USA, UK, Spain, Romania, and China. Founded in 2010, PlayTales develops and distributes interactive children's books within its award-winning bookstore apps. PlayTales applications can be downloaded from Apple's App Store, Google Play, Amazon.com, Blackberry App World, Intel App Up, and Verizon V-Cast. Like PlayTales on Facebook and follow them on Twitter @PlayTales.
About PlayTales Builder:
PlayTales Builder is a ground-breaking publishing tool the enables illustrators, authors, and publishers to digitize their stories and add interactive features. Everyone can use Builder to create fun, high-quality, and interactive eBooks and adapt them for distribution through all major mobile platforms. There are tons of examples, detailed instructions, and discussion forums to help you get the most out of your Builder experience. For more information visit http://www.playtalesbuilder.com
USA Contact: Conchi Ruiz
conchirc(at)generamobile(dot)com
EMEA Contact: David Martin
davidmartin(at)generamobile(dot)com
About DADA Company:
DADA Company is a Spanish based company that develops interactive games and storybooks for children aged 0-14 years old. DADA Company focuses on developing digital interactive content for Apple iOS and Android mobile devices (smartphones & tablets) offering children a rich, dynamic and flexible multimedia experience. For more information on DADA Company, please email pr(at)dadacompany(dot)com.