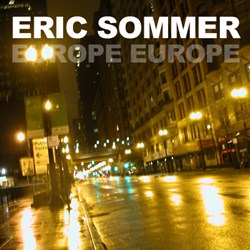 Spending public money minus oversight and accountability equals fraud and corruption

Afra Raymond
TED Talks

Washington, DC (PRWEB) March 27, 2013
Eric Sommer believes that songs make a difference, and sometimes a song is all it takes to effect dramatic change. There are powerful examples: Bob Dylan's "The Times They Are A-Changin'", Buffalo Springfield's "Something Happening Here"... and now "Europe, Europe", a new release by Alt Folk Rocker Eric Sommer.
In this new release off the record "Rainy Day Karma", The Solar Flares craft a song that has a powerful message and a bit of a frightening introduction - the beat of military drums.
As Mr. Sommer sees it "The threat of seizing the depositors money in Cyprus as a "tax" and then closing the banks and demanding a write off of depositors funds as losses, creates a business climate not unlike that of the former Soviet Union on a bad day." The new song "Europe, Europe" chides the governing body of The European Union for their lack of transparency. But the lyrics also warn that no matter how they spin it, the truth will come out and the world will find out about these deals and bail-outs which hurt everyone.
The chorus echos the frustration most Americans seem to feel regarding Cyprus. Sommer is quick to point out that what happens in Cyprus will effect EU and US financial markets. The tone of the song is part anger and part frustration and a demand for transparency and oversight and no more lies and falsehoods regarding EU Finances.
"Europe, Europe" isn't classic Eric Sommer most audiences are accustomed to. There is no slide guitar or open tunings, few jaw-dropping, innovative harmonic approaches - just raw urban balladeering.
"Europe, Europe" is a simple message wrapped around a memorable pop song. The song is insightful, hauntingly visual, and is an example of the new "urban balladeering" style. For Sommer and The Solar Flares, it all comes together to form a simple, sparse and frighteningly real appeal: "Europe, Europe, don't bring me down!"
An artist who has been on the scene for some time, Mr. Sommer carries a lot of musical credibility. A ton, in fact - Dead Kennedy's, Gang of Four, Bram Tchaikovski, Wreckless Eric and new Mods Bugsy Low Low and Pete Hanks as well as Nashville favorite Cindy Compton - and on the flip side there are shows and tours with John Hammond, David Bromberg and John Dee Graham, Leon Redbone and Dr. John... almost an endless list.
______________________________________
For Music Samples please visit CDBaby or Eric Sommer online for additional schedules or contact him at eric(at)ericsommer(dot)com or call 202-255-1995. Additionally, you can find Eric Sommer on Facebook, too.
Eric Sommer is represented by Clyde is Thinking, and PR programs are managed thru MTG/NY; For more information, promo/appearance requests or to set up an interview, please contact Tom Monihan 202-255-1995.