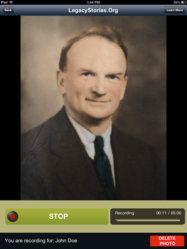 This app is going to totally change my business by giving me a simple way to show the power of story to my potential clients.
Knoxville, TN (PRWEB) March 27, 2013
Genealogists and personal historians were amazed at the simplicity of the Legacy Stories iPad app at the annual RootsTech Conference held this March in Salt Lake City, Utah.
Mike Isbell, a personal historian from Lubbock, Texas, reflected the feelings shared by most of the participants, "This app is going to totally change my business by giving me a simple way to show the power of story to my potential clients." He continued, "I am downloading it right now."
The free app uses the iPad's high definition camera to take photos of people or vintage family pictures as if scanned. Once taken, the storyteller can record oral narratives of the photos, capturing his or her voice, personality, attitude and accent while describing the people, event or information.
Once recorded, the 'talking photos' are uploaded to the teller's LegacyStories.org family history library where they can be preserved and shared.
"This revolutionary app is simple to use for all ages but it is particularly useful to heritage professionals and story preservationists." says Tom Cormier, President of LegacyStories.org. "Many people are overwhelmed when it comes to telling a life story and this app serves as the ultimate icebreaker."
The app was developed by Jose Lacal, of NIHPO, Inc. One of the app's most unique features is the ability to create folders for multiple storytellers. Users can capture photos and recordings for each storyteller, keeping them organized in one place for immediate upload or to be recalled for uploading later.
Once uploaded to the LegacyStories.org family history library, the talking photos can be linked to one of over 3.5 billion ancestors in the official family tree of humankind. This is the result of a special arrangement made between LegacyStories.org and FamilySearch, the world's largest genealogical organization.
To utilize the app to its fullest users are encouraged to first create a free account in the LegacyStories.org family history library. Then, they search for "Legacy Stories" in the App Store.
The launch of the Legacy Stories app is the most recent tool provided to the public and professionals to support the Living Legacy Project, a mission to preserve and share the human experience of the 20th century.
ABOUT LEGACYSTORIES.ORG
Founded in 2008 by Tom Cormier and Dennis Stack, the LegacyStories.org family history library is a free web repository containing life stories from people of all races, creeds, cultures and nationalities for the benefit of researchers, educators, and for securing an honored place in family history.
The site's ultimate purpose is to secure a personal digital library of life experiences in a format that can survive the ravages of time so that future generations can learn and grow.
For more information contact:
Tom Cormier
Phone: 423-295-5904
Email: tom(at)legacystories(dot)org