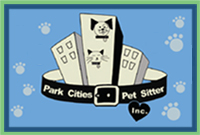 "Our clients have different dog needs and budgets when it comes to their furry family members."
Dallas, TX (PRWEB) March 26, 2013
Park Cities Pet Sitter Inc. has recently added Dog Training services to its product lineup. In business since 1992, PCPSI President Joette White has seen the pet services business grow tremendously during her tenure, and said that adding dog training to her service offerings was a logical next step. "As our pet sitting business has continued to grow over the years, our clients routinely come to us anytime they have a pet service need. We finally got enough requests for dog training referrals that we realized we had to start offering it ourselves," said Ms. White.
Park Cities Pet Sitter offers one-on-one in-home pet training by the hour or in "six-packs" of six 1-hour sessions to address the more complex behavior problems. The company's first Group Dog Training Class will start this Saturday, March 30th, from 10am-11am at Cole Park in Uptown. In addition, Park Cities Pet Sitter offers a one-on-one "three-pack" of three 1-hour sessions for puppies between 10 weeks and 6 months old, to get brand new four-legged family members started on the right foot.
Offering multiple types of Dog Training services is something Ms. White was insistent Park Cities Pet Sitter do. "Our clients have different dog needs and budgets when it comes to their furry family members. We wanted to be able to offer multiple dog training services options so they could select what fit best for them," said Ms. White.
PCPSI's President was also very careful in selecting the trainers to become members of her dog training team, because she wanted their techniques and styles to match the service level her clients have expected from her. "I am aware that there are many dog training methodologies out there, but I knew that a training practice based on positive reinforcement and learning how to set your dog up to succeed would resonate with my clients. So we carefully screened our dog trainers, and are thrilled with their approach to dog behavior and the results they have been able to achieve with a variety of dogs," said Ms. White. To learn more about Park Cities Pet Sitter's Dog Training service offerings, please go to their website.
Park Cities Pet Sitter, Inc. has served the Dallas area 7 days a week, 365 days a year since 1992. Pet sitting, daily dog walks, pet taxis, overnight sitting, pet supply shopping, litter box cleaning and now dog training are all part of the services PCPSI offers. Park Cities Pet Sitter is bonded and insured, and all sitters are employees--not independent contractors. A manager is on-call 24 hours a day to handle any emergencies. Park Cities Pet Sitter takes care of the family you leave behind!