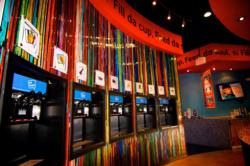 "Our goal is to change the type of experience that your customers have while eating frozen yogurt"

Jennifer Mann - Co-Founder
Red Bank, New Jersey (PRWEB) March 29, 2013
Yo Mon Frozen Yogurt, a Red Bank, New Jersey-based, Jamaican-Caribbean-themed yogurt concept has entered into the competitive fro-yo franchise space with a model that is the antithesis to the established fro-yo market and current existing franchise yogurt concepts.
"Our goal is to change the type of experience that our customers have while eating frozen yogurt," said Jennifer Mann, who co-founded Yo Mon Frozen yogurt with her husband, Michael Mann. Michael adds, "We have created the perfect third-place environment, where families and people of all backgrounds can hang out and just plain chill."
The frozen yogurt industry is on track and more popular than ever before with diet-friendly treats that are appealing to health-conscious consumers. Combine the popularity of this all-natural tart and tasty yogurt with a themed shop that appeals to a larger demographic, ranging from stroller moms to blue-collar tough guys, and you have Yo Mon, a total experience.
Yo Mon opened the doors to its first location in Freehold, NJ, in 2009 and the second location in Red Bank, NJ, in 2011. Both locations have received overwhelming local support and have resulted in a constant flow of customers inquiring about franchise opportunities. Finally, heeding the call in 2012, the Mann's have put together all the necessary franchise documents and contracted with The Franchise Sales Solution, a Tampa, Florida-based sales and development company to assist with sales and development of their franchise.
"This concept is so different from what is currently out there in the fro-yo space," said John Armatas, principal at The Franchise Sales Solution. "Yo Mon has a different feel to it and we believe that it is perfectly suited to become a hang-out in smaller markets throughout the northeast." Jennifer Mann added that the initial strategy is to grow the franchise in the northeast to ensure that franchisees are within a few hours of the corporate headquarters. "We are constantly introducing new and cutting-edge flavors and programs to engage the community, so we want to be within shouting distance of our locations to support the new initiatives we develop."
For additional information on the Yo Mon Frozen Yogurt Franchise Opportunity, visit the Yo Mon Website or contact John Armatas at 855-844-8377.