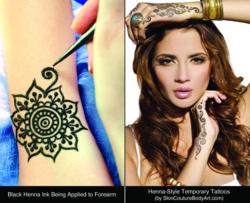 Our color additives have been approved by the U.S. Food and Drug Administration (FDA) as cosmetics. This means the FDA has determined they are safe for "direct dermal contact.--Chirs Huff, Tattoo Manufacturing
Tucson, AZ
(PRWEB) March 26, 2013 -- The FDA recently issued its annual alert about the dangers of henna temporary tattoos without clarification that the warning does not apply to water-transfer temporary tattoos, including henna-style designs. The "temporary tattoos" referred to in the FDA warnings are those that are painted on by an artist using "black henna ink" and containing paraphenylenediamine (PPD), not those that are self-applied transfers.
"Tattoo Manufacturing and SAVVi water-transfer temporary tattoos are made with all natural, FDA-certified colorants and time-proven manufacturing techniques to ensure our products meet or exceed all applicable U.S. and international regulatory requirements," explained Chris Huff, Tattoo Manufacturing International V.P. of Operations and Compliance. "Our colorants have been approved by the U.S. Food and Drug Administration for cosmetic use. This means the FDA has determined they are safe for "direct dermal contact."
Water-transfer temporary tattoos are rarely associated with any sort of skin reaction, and are safe to apply to children.
Natural Henna Temporary Tattoos
Natural henna, which has been used for generations to adorn skin, is made into a paste of dried, ground henna plant leaves and essential oils and "painted" to the skin as a tattoo. Natural henna usually does not cause an allergic reaction. Most henna artists use natural henna for their work, making it safe and fun. Dermatological publications report that allergic reactions to natural henna are very rare and the product is generally considered safe for skin application. Serious problems can occur from the use of henna with certain additives. The FDA and medical journals report that "black henna" temporary tattoos are especially dangerous.
Black Henna Temporary Tattoos
FDA warnings pertain to tattoos labeled as "black henna" or "pre-mixed henna," as these can contain potentially harmful ingredients including silver nitrate, carmine, pyrogallol, disperse orange dye and chromium. "Black henna" gets its jet-black color from the coal-tar dye paraphenylenediamine (PPD), a textile dye approved by the FDA for human use only in hair coloring. In Canada the use of PPD on the skin is banned. Research has linked these and other ingredients to a range of health problems including allergic reactions, chronic inflammatory reactions, and late-onset allergic reactions to related clothing and hairdressing dyes. These chemicals can cause reactions long after application. Neither black henna nor pre-mixed henna are approved for cosmetic use by the FDA.
Over the past several years, however, some henna artists have used PPD-laced Black Henna. PPD is absorbed by the skin, enters the blood stream, and in turn passes through the kidneys and liver. Some people have had extreme reactions and lifelong damage. Many people are drawn to black henna because the outcome looks more like a real tattoo. Though the tattoo looks real, it also has a high risk of staying with you for the rest of your life.
Does the FDA Approve Any Temporary Tattoos?
No, the FDA does not "approve" any temporary tattoos. The FDA regulates the colorants that are approved for use in the making temporary tattoo products. You will often see "FDA Approved" on websites, which is a mis-statement by those who are selling temporary tattoos. Therefore, purchasing these products from a reputable manufacturer that uses only FDA-approved colorants and has met or exceeded the safety testing requirements is prudent.
"Tattoo Manufacturing exceeds all state and government safety standards," said Huff. "This is vital to our customers and a requirement to export to many of the countries to which we ship our products each year."
You can visit the FDA's page about temporary tattoos to learn more about its oversight of these products. Tattoo Manufacturing's testing data is available upon request.
About Tattoo Manufacturing
Tattoo Manufacturing, a division of TMI Acquisition LLC, is the largest manufacturer of temporary tattoos in the world. The company designs and manufactures all of its products in Tucson, AZ. Products are non-toxic, hypoallergenic, use FDA certified colorants and comply with CSPC/CPSIA and ASTM requirements. All products exceed US, Canadian and EU safety standards. The company's products have a worldwide reputation for quality. Visit http://www.tattoosales.com or call 1-800-747-8016 for more information.