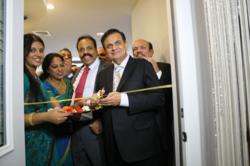 Ayurveda the Science of Life
Queens,NY (PRWEB) March 27, 2013
Santhigram Kerala Ayurvedic Company celebrated grand opening of its seventh Kerala Ayurveda Wellness center in the USA. With recent launch of its center in Chicago, the company wasted no time in launching its branded "Kerala Ayurveda center" in the prime location (Forest Hills) of Queens, New York. Keeping up with the local demand, this center is a high end investment by the company and its partners.
The center was formally inaugurated by the renowned physician, philanthropist, Dr Sudhir M Parikh, MD. He is the recipient of a number of prestigious awards like Padma Shri, Knights of Malta, Pravasi Bharatiya Samman Award, Ellis Island Medal of Honor, is the Chairman of the Center for Asthma & Allergy and Parikh Worldwide Media. He also the president of Indian American Political Forum & Federation of Indian Association and also the patron trustee of American Association of Physicians of Indian Origin. In his inaugural speech Dr. Parikh narrated in detail his own experience in availing Kerala Ayurveda therapies in one of the Centers in Kerala and he lauded the efforts by Santhigram in popularizing Kerala Ayurveda in the USA.
The CEO , Global President of Santhigram, Dr Gopinathan Nair in his introductory note thanked Dr. Parikh and other community leaders for their support to Santhigram, to help their efforts to propagate goodness of Ayurveda. He unveiled an ambitious plan to take the company to the next level so that many people can benefit from this unique system of side-effect-free wellness therapies. He thanked partners Mr.Manu Kapoor and Ms. Sivakami Kapoor for their hard work to help create a state of the art facility.
This is the fifth center of the company in the New York – New Jersey area and the occasion was graced by many prominent community leaders like Mr. Lal K. Motwani, President of National Federation of Indian-American Associations (NFIA), Mr. George Abraham, President of Indian National Overseas Congress (INOC), Prof Dr. Sreedhar Kavil, Vice President Indian American Chamber of Commerce, Mr.Alex Vilanilam Koshy former Global President of World Malayalee Council, Mr.Baby Urali, former President of FOMAA, Mrs. Leela Maret. Executive Vice President of FOKANA and Dr James M Dallas, Managing Director of Vedic Sun Holdings.
The leaders spoke on the occasion and expressed their appreciation for the efforts by Santhigram in propagating Kerala Ayurveda treatments in the US. Professor Dr.Sreedhar Kavil appreciated services of Dr. Ambika Nair, the Chief Consultant of Santhigram. He noted from his personal experience in getting help from her, the extra ordinary abilities she had in pinpointing infirmity not picked up by modern diagnostic tools. He emphasized the need to propagate alternative medicine like Ayurveda in this country and to have an integrated approach in treating patients, when modern medical system alone cannot provide side-effect-free treatment . Dr. James M Dallas who also runs a Transcendental Meditation Center and is associated with Maharishi Ayurveda went to the extent of telling " that Ayurveda being the oldest known medical system should have been the main medical system and others as alternative medical systems".
"Ayurvedic Wellness Therapies" that Santhigram offer are based on the time-tested , Ancient system of medicine for which people from all over the world travel to Kerala to avail these services. Kerala Ayurveda wellness therapies are a multibillion dollar industry worldwide today and Santhigram is a pioneer in this business. Their centers offer natural, drug free therapies which reduce the physical suffering from skeleto-muscular disorders, chronic ailments, retard the aging process, and stimulate unlimited self-healing powers of the body and mind. Panchakarma therapy is known to help repair the worn out tissues, increase memory and improve vigor and vitality. The specialized Ayurvedic Panchakarma therapies they offer also help to alleviate specific health problems like Back Pain, Neck Pain, Frozen Shoulder, Sinusitis, Migraine, Joint Pain, Arthritis, Insomnia, Depression, excess weight, to name a few.
Santhigram group has cut out an ambitious plan of setting up multiple Ayurvedic Centers in all the 50 states in the US .
For inquires please contact:
Dr.Gopinathan Nair
President & CEO
3050 Woodbridge Ave., Edison, NJ 08837
Email: info(at)santhigramusa(dot)com
Santhigram Kerala Ayurvedic Co. of US Inc.
Phone: +1-732-915-8813
Website :http://www.santhigramusa.com