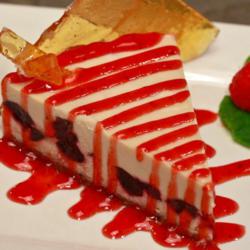 All of our health-conscious desserts can now be found at local health food stores across the nation.
Los Angeles, CA (PRWEB) March 27, 2013
Earth Cafe Living Foods, the nation's leading designer of artisan, hand-made cheesecakes and pies, announced today that its signature gluten-free, dairy-free, but flavor-rich cheesecakes and desserts are now conveniently available in the bakery section of local health food stores from coast to coast. This news couldn't have come sooner to select groups of customers who stand to gain greatly from local access to Earth Cafe products, including persons suffering from Celiac disease, lactose intolerance, gluten-intolerance, or diabetes. Also to gain are vegans, raw food eaters, fitness-minded individuals, those interested in low-glycemic desserts, and dessert aficionados in general.
"We have just upped the ante, by making our life-changing desserts available in local health food stores across the nation. What this means is that we are making desserts that are designed to trim the waistline, satisfy the senses, and heal the planet available to more people at more access points," says Candy Tolentino, CEO and Founder, Earth Cafe Living Foods, located at 27601 Forbes Rd. Ste. 15 Laguna Niguel, CA 92677.
In an age of rampant obesity, food allergies, heart disease, cancer, and other lifestyle diseases, Earth Cafe, known for their health-conscious living foods, makes cheesecake consisting of ingredients that can help the body.
According to CEO Candy, they are particularly excited because their lemon-flavored cheesecake is in the process of being certified "diabetic-friendly". This means that not only does this dessert provide a solution for those gluten-free, vegan, and anyone seeking to avoid refined sugar but not compromise on taste, but they now can appeal to a whole new group of eaters with dietary restrictions who can now indulge in something that doesn't taste like a health food (but is)!
"The key thing now is that all of our health-conscious desserts, which were previously only available in the Western United States, can now be found at local health food stores across the nation," notes Candy. "Making our desserts available coast-to-coast is a strategic move in our push toward national and even international distribution which began in 2012."
Pointing out that their artisan, hand-made cheesecakes and pies with out-of-this-world taste just happen to contain less than 1/3 the calories of other famous cheesecakes, and are even made with raw ingredients touted for their health benefits, causes the dessert founder to beam with enthusiasm. She proudly proclaims that these desserts help people indulge without the guilt or issues often created by desserts made with refined flour (theirs are made with no flour at all). Earth Cafe desserts also contain no refined sugar, trans fats, dairy, or other low-quality ingredients.
"This is great news for vegans, gluten-free enthusiasts, raw foodists, as well as conventional eaters, because our deserts are 100 percent vegan and made with raw ingredients, yet they rival the rich, sugar and dairy-laden desserts many of them used to know and love," boasts Candy, who previously couldn't effectively digest a meal. For many years she was depressed, had low energy, suffered from migraine headaches and other illnesses, and was forced to learn to rethink food as medicine, but didn't want to compromise on taste or pleasure.
"Out of that quest, Earth Cafe was born," says Candy. Earth Cafe has since been named a "Staff Pick" by VegNews Magazine and is a winner of the coveted Vegetarian Times "Foodie Award." Other notable awards include "Best Raw Dessert" at World Vegan Day and an enthusiastic recommendation given by Phil Lempert, the Supermarket Guru, as featured on the Today Show, The View, and many others. Founder Candy Tolentino and her companies have also been featured on Fox News, The Washington Post, HuffPost Weddings, The OC Register, Vegetarian Times, VegNews Magazine, DailyFinance.com, The Cooking Channel, and Voxxi.com, to name a few.
About Candy Tolentino:
As founding partner and CEO of Earth Cafe Living Foods, the largest and only nationally distributed raw dessert company in the nation, Candy Tolentino brings passion and drive to everything she does. Originally from Jersey City, NJ, she has now calls Los Angeles, CA home. As the daughter of NJ's first African-American female superior court judge, she was raised with a strong emphasis on ethics, enthusiasm and achievement. Always one to seek solutions when confronted with life's challenges, Candy was inspired to create a healthy dessert company after learning she was plagued with digestive issues and other health challenges. Never one to compromise on taste or quality, it was imperative that the products were as healthy as they were decadent, and thus, the company was a hit from day one.