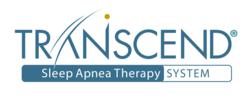 There is great demand and anticipation for the Transcend Auto and Transcend EZEX products and the benefits they offer consumers."
MINNEAPOLIS (PRWEB) March 27, 2013
Somnetics International, Inc., the Minneapolis-based maker of Transcend® Sleep Apnea Therapy System™ announced that it received CE Mark for new sleep apnea therapy products Transcend Auto™ auto-adjusting positive airway pressure (APAP) device and the Transcend EZEX™ continuous positive airway pressure (CPAP) fixed-pressure device, for distribution throughout Europe.
The Transcend Auto APAP and the Transcend EZEX CPAP are the world's smallest, lightest and most innovative full-feature sleep apnea therapy devices on the market. Each unit weighs less than one pound and is small enough to fit in the palm of a hand. Transcend Auto and Transcend EZEX are the first primary-use CPAPs with portable power options uniquely suited for therapy at home and during travel. Both therapy devices feature Transcend EZEX Technology, which provides pressure relief and increased comfort to the patient on exhalation.
Clarence Johnson, CEO and president of Somnetics International, Inc., said, "This is an important milestone for the Transcend product line and for our retailers who want to offer their consumers convenience, portability, and innovation in CPAP technology. There is great demand and anticipation for the Transcend Auto and Transcend EZEX products and the benefits they offer consumers."
"Distribution and awareness of Transcend products is well established in Europe," said Rischeh Kumarasinghe, senior vice president of International for Somnetics. "Receiving CE Mark for the Transcend Auto and Transcend EZEX is a significant development for our distributors, their retailers and sleep apnea customers. We are ready to meet the demand."
Somnetics International, Inc. sells its products through an established network of distributors and direct sales representatives serving markets across the U.S. and in key markets around the world.
For information about Transcend visit http://www.mytranscend.com or call 877-621-9626.
About Somnetics International, Inc.
Somnetics International, Inc. is a privately-held medical device company based in Minneapolis, Minn. It is an emerging leader in customer-driven design, development and production of respiratory medical devices to treat sleep apnea and related issues. Somnetics' mission is focused on integrating technology, customer input and employee creativity to provide innovative, high quality products that improve quality of life for people with respiratory disorders. Transcend received the Innovation Award at Medtrade in October 2011 and the 2012 Best Practices Award for Product Differentiation in the Sleep Disordered Breathing market from Frost & Sullivan. Somnetics received FDA market clearance for the Transcend CPAP machine in July 2010. Transcend and associated technology is protected by several issued and pending US and foreign patents.
###
Media Contact: Kathleen Crandall 612/327-6336 kathleen(at)crandallcommunications(dot)com