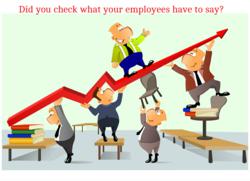 Toronto, ON, Canada (PRWEB) March 28, 2013
Statistics show that it is normal behavior for people to express a negative experience more often than a positive one. The desire and capability to express negative views, now with respect to employers, is growing rapidly and the virtual world is only adding fuel to the fire. There are many websites and social media platforms that allow businesses clients, customers, and members to express their opinion and experience: from a Facebook company page to a business website to sites like Yelp. Although mainly uncontrolled, these reviews can provide businesses with meaningful insights that can be crucial for maintaining a good relationship with stakeholders, customers and employers and help improve product or service quality.
Now, relatively new to the scene are employer review sites such as Glassdoor and RateMyEmployer. Tellwut conducted an online survey on this topic asking over 1000 businesses and employees if they check out what employees are saying about businesses on these social network platforms. The responses were really surprising!

Over 30% of the participants did not even know that employer review websites existed.
Almost 30% answered that they use these websites, but more than half of those do it rarely.
These employer review sites have been created to allow prospective employees to get an inside look at jobs, career opportunities, and how a business is run. Past and present employees can rate a company and review the work environment, management, compensation, interview processes and quality of work with the "small" difference that these comments are not passed anonymously via email or opinion survey to the company. These comments are public and these sites are popular and its turning the tables. Not only can employers now search out information on the internet on prospective employees; employees can do the same for prospective employers. Employees can vent and share experiences they have had with employers, allowing others to make better decisions when they look for a job.
Although some companies may view these sites as dangerous or even detrimental from a businesses and brand perspective, when managed appropriately, a business can benefit from these "reviews". Reading these reviews regularly and taking steps to correct unknown issues is a way manage your image. Transparency is the word of the day. Showing that you are listening and willing to have a conversation can only help to improve your operations, employee morale, and even increase productivity and revenues.
About Tellwut®. Tellwut is a North American online community of individuals dedicated to expressing their opinions through online surveys based upon a wide variety of topics in exchange for rewards and the Tellwut community experience. The Tellwut community and proprietary survey and reward software application provide a platform for organizations to send surveys to their stakeholders or to crowdsource and conduct online market research. Through the use of the Tellwut survey platform and/or the leveraging of the Tellwut Community businesses can gain a clearer understanding and insight into their products or services, customer attitudes and potential business opportunities. For business inquiries please contact Elena Trifonova - etrifonova(at)tellwut(dot)com