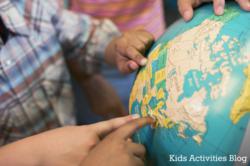 The kids will grow up in a world that will become more international. It is important to teach them about the world they live in.
Dallas, Texas (PRWEB) March 30, 2013
The world is becoming more international. Raising world citizens activities, world peace activities, and other meaningful activities for kids have been published on Kids Activities Blog. These activities will expand the kids horizons, expose them to foreign cultures, and teach them important life skills.
Looking at foreign language children's book is one of the great ideas even though one may not be able to read the book. The foreign language books for kids can be found at the local library or may be borrowed from friends or neighbors. Another fun idea is doing arts and crafts from foreign cultures such as a Baha'u'llah craft.
Engaging the kids in service projects benefiting overseas projects is another clever way to teach the kids about the world they live in.
The Parrot Tico Tango activity is a cute book based activity that will get kids thinking about a foreign culture and learning new ideas while playing and having lots of fun.
Building peace pinwheels will make a great activity to teach the kids about the importance and meaning of world peace. The pinwheels can be given as gifts to friends, teachers, and neighbors and when placed in the front yard, will serve as peace symbols.
For detailed instructions, templates for crafts, and additional meaningful activities that teach kids important life lessons, check out Kids Activities Blog this week. Come get inspired to get the kids learning about the world they live in.
About Kids Activities Blog
Kids Activities Blog is a website created by two moms (who collectively have 9 children), Rachel Miller and Holly Homer from June Cleaver Nirvana. It is their daily goal to inspire parents and teachers to play with kids. This interactive website publishes simple things to do with kids twice a day. Kids Activities Blog is a great tool for moms and teachers to find kid-friendly activities that create memories and sneak learning into the fun.