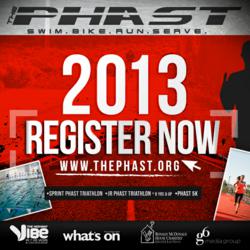 "We may not be the biggest event out there, but we are trying to be the most meaningful and have the most long lasting impact in our community. This year is going to be a BLAST!" - Darin Thomas, The PHAST Foundation Founder and President
Las Vegas, Nevada (PRWEB) March 31, 2013
Registration to compete in the 4th annual sprint PHAST Triathlon, Junior PHAST Triathlon (8yrs and up) and PHAST 5k is now open at http://www.thePHAST.org. The PHAST races will be taking place at Heritage Park Aquatics Center in Henderson, NV. The PHAST, which stands for Promoting Health And Service Together, adds a service element to a normal triathlon. Each PHAST Foundation event includes a short but meaningful act of service, to be completed by each athlete during the race. For every completed service project, the athlete will receive a time deduction. This pits the athlete's competitive drive against their caring heart. The first person to cross the finish line is not necessarily the winner. The winner will be the athlete with the overall PHASTEST time.
For the 4th year in a row the Sprint PHAST Triathlon. JR PHAST Triathlon and PHAST 5k, participants will be putting together Emergency Room gift bags for kids that have been admitted to the emergency departments throughout hospitals in the Las Vegas Valley. Participants will also be quickly decorating brown paper lunch sacs that will later be filled with lunches for the families and children who are in Intensive Care Units in said hospitals, thus allowing the families to remain at their child's bedside. The race is not finished until the service is completed. The PHAST Foundation believes that no one is ever too busy to help another in need, not even during a race. The bags will then be delivered to the area hospitals courtesy of The Ronald McDonald House Charities of Greater Las Vegas. "We may not be the biggest event out there, but we are trying to be the most meaningful and have the most long lasting impact in our community, while having the most fun! This year is going to be a BLAST!" - Darin Thomas, The PHAST Foundation Founder and President
This year The PHAST's media sponsors are 99.7, 98.1 and 98.9 The Highway Vibe, What's On Magazine and g6 Media Group. The Highway Radio Stations reach 3 states and opens this event up to all locals and visitors that frequent the Las Vegas area.What's On Magazine is distributed in Barstow, Baker, Primm, Kingman, Mesquite and Las Vegas. g6 Media Group is a full service media group based in Las Vegas. Sponsorship opportunities are also still available. Sales kits are available upon request along with any media inquiries at andygil(at)g6medigroup(dot)com.
About The PHAST & The PHAST Foundation:
The PHAST started 3 years ago with the goal of combining HEALTH and SERVING others. The PHAST is taking races, such as triathlons, 5k's, fun runs, and 3-on-3 tournaments and adding an element of service to each event. Each participant, in order to finish the event, not only has to complete the race portion, but also complete a short but meaningful act of service.
The PHAST Foundation, a 501(c)3 (pending) believes in the health of the entire person, not only the body. A truly healthy person must have not only strength to swim, bike, then run, but they also have to be able to serve, to give back, to care for others. The PHAST has established itself not only as a well run and fun event, but a force for good in the communities in which they are held. The PHAST Foundation, which started as just a triathlon, has grown and will become a 501(c)3 and includes events such as Junior PHAST triathlons, 5K's, PHUN Runs, and even academics scholarships, such as the THINK PHAST Scholarship. "I started the PHAST Foundation to help people realize that every day and every moment is an opportunity to live a meaningful and rewarding life. The point of thePHAST is that you don't have to stop doing what your doing, to help others. You don't have to make any dramatic and over the top changes to your life, just look for everyday opportunities to help others as you are living it. Live your life. Help others. That is living life in the PHAST lane." - Darin Thomas, The PHAST Foundation Founder and President