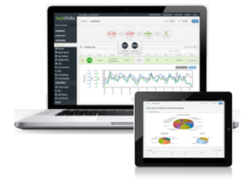 The great thing about this new integration is that clients can see how people are interacting with their social presence on Facebook
Cupertino, CA (PRWEB) March 31, 2013
It's two days before the digital marketing review and help is needed, bigtime. The IT group is busy (as always), the campaign reports aren't ready (uh-oh) and no one is answering their cellphones. Sound familiar? Panic is setting in. What's a digital marketer to do?
Now, TapClicks, the digital presence company, has integrated their state-of-the-art marketing analytics platform with Facebook Insights to bring social media reporting "front and center" to digital clients. Facebook Insights joins over twenty other integrations of leading digital marketing platforms such as Google AdWords, Twitter, FourSquare, leading banner servers, email-newsletter services, etc. in the TapClicks platform.
The latest TapClicks integration makes it easy for digital agencies, enterprises and marketing organizations to see the results of social campaigns with analytics from banner ads, call tracking, daily deals and reputation management, just to name a few. This means that digital marketers everywhere are now able to track all digital campaigns, visualize the results in a unified dashboard, find out what's not working, and focus scarce resources (i.e, marketing budget) on the stuff that works!
A wholehearted "Thanks" to the awesome engineers at Facebook who developed this API. With it, the crack development team at TapClicks have created a way for digital marketers to analyze Facebook marketing analytics and insights, combined with analysis from other data flows, to determine things like engaged users, demographic makeup, post reach and more.
The result -- an intuitive tool that makes it a lot easier to understand, track and report successes in online social marketing
"Millions of people are using Facebook, but it's been hard to understand how well businesses are engaging with them," said Babak Hedayati, CEO of TapClicks. "The great thing about this new integration is that clients can see how people are interacting with their social presence on Facebook. We connect and display the Facebook social data in our unified marketing analytics platform in close to real time."
TapClicks recently unveiled its latest product, TapClicks Analytics Platform 2.0. The company has also recently announced it has completed another round of financing, signed new media clients, and integrated its suite of analytics tools into key verticals including real-estate and automotive.
TapClicks Inc. provides digital-marketing solutions, performance analytics, turnkey digital packages for resale, and digital marketing fulfillment for its clients. Founded in 2009, TapClicks operates out of offices in Silicon Valley, Canada, India and Mexico.
For more information, please visit http://www.TapClicks.com or contact Michael Mertz at 408-725-2942 or info(at)TapClicks(dot)com.