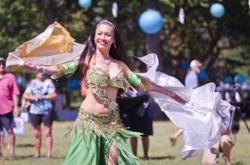 We will have 30 artists presenting works for every taste and price range in painting, jewelry, clay, furniture, fiber and much more.
-Art Curator Dawn Thomas
Traverse City, Michigan (PRWEB) March 31, 2013
The fifth annual Traverse City Wine & Art Festival takes place on Saturday June 22, 2013 beneath the canopy of of the historic arboretum of the Grand Traverse Commons. Visual, performance and culinary artists will engage all five senses as the wineries of Michigan's Wine Coast pair superb regional wines with art, music and local food.
In addition to 2013 headliner Rodriguez, hero of Oscar-winning documentary Searching for Sugar Man, a centerpiece of the Festival will be an astounding array of 30 artists working in a variety of media. In 2013 the Festival will unveil an all-new Art Garden with the support of our Art Garden Sponsor, the Grand Traverse Pavilions.
"Attendees won't soon forget the exceptional art presented at this year's festival," predicts Art Curator Dawn Thomas. "The artists were chosen based on quality and originality of work and uniqueness of concept and design. We will have 30 artists presenting works for every taste and price range in painting, jewelry, clay, furniture, fiber and much more."
Returning artist Shawn Malone adds "Last year was our first year and a very pleasant surprise - beautiful grounds, well attended, great music and wine, a nice variety of art in a laid back setting - just an overall great time. We sold art, made new friends and are excited to return!"
Live musical performances from Michigan artists including Rodriguez and The Crane Wives and dancers and performers including the lively Lakeside Shakespeare troupe on the lawn will complement more than 150 wine selections from 30 regional wineries available for tasting and paired with local food favorites from a dozen of the region's finest eateries.
You can get a taste of things to come and toast the artists at the April 5th First Friday in the Mercato in Building 50 at the Grand Traverse Commons. The reception begins at 5:30 pm and will feature free tasting of wines from Festival wineries and some great prizes.
The Festival is presented by Cherry Capital Subaru. Tickets are extremely limited and available online for $35. Purchase tickets and get information about the all-new Friday night Winemakers Party at http://traversecitywinefestival.com.
Booth Artists
Kathy Anderson, Painting
Tony Reynolds, Wood
Brennan Ware, Painting
Mark Middleton, Painting
Yanna Dee, Fiber
Julie and Youngman Chai, Clay
Leif Spork, Clay
Sue Swain, Leather (shoes)
Dawn Thomas, Jewelry
Sheryl Langdon, Jewelry
Michelle Hart Jahraus, Painting
Elizabeth Saile, Jewelry
Blaise Peluso, Alabaster
Troy and Sharra Cook, Copper
Geoffrey Vale Brown, Photography
Craig Irish, Furniture
Nova Mackentley & Chris Neri, Photography
Brian McKelvey, Ink drawings
Mark McDonough, Metal
Debra Sanborn, Painting
Shannon Schmidt, Painting
Megan Kellogg, Terrariums
Rowan Leithauser, Fiber
Shawn Malone, Photography
Mary Lou Babich, Fiber
Sandra Plaga, Jewelry/ purses
Plein Air Artists
Lisa Flahive
Margie Guyot
Dawn Russell
Lisa Perrine Brown
Freestanding Art
Paul Varga, Sculpture
Kirk Rowe, Weaving