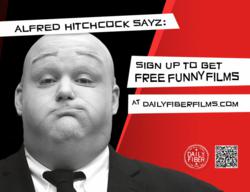 Thirty-three years to the month after his death, the character Alfred Hitchcock makes his comedy festival premiere
Los Angeles, CA (PRWEB) March 31, 2013
Thirty-three years to the month after his death, the character Alfred Hitchcock makes his comedy festival premiere as the instructor of a game that is guaranteed to cure boredom: The Chubby Bunny Challenge. Conceived by actor and writer Raymond McAnally and directed by Lon Strickland for online comedy production company Daily Fiber Films, "Alfred Hitchcock Prezentz Chubby Bunny" is a comedic homage to a brilliant filmmaker who's amazing sense of humor very rarely gets recognized.
"Mr. Hitchcock's playful sense of humor is alive in every interview and in the timing of every scene he ever shot" says McAnally. It's Hitchcock's dry but playful delivery that I hope comes across in our comedic portrayal".
The L.A. Comedy Shorts Film Festival is a four-day, non-stop celebration of comedic short films with screenings, industry panels and a red-carpet awards event. LACS was named one of Moviemaker Magazine's "25 Festivals Worth the Entry Fee" in both 2009 and 2011, and was honored as one of the "Top Ten Film Festivals in the U.S." by the Brooks Institute.