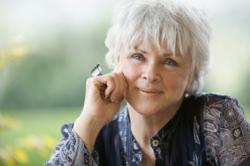 You either believe your stressful thoughts or you question them. There's no other choice.
(PRWEB) March 31, 2013
Byron Katie will present The Work across Europe with four events plus the nine-day School for The Work. Her visit begins in Amsterdam on 11 July and continues to London on 13 July, Stockholm on 15 July, Cologne on 17 July, and Bad Neuenahr, Germany, from 19–28 July.
Katie's first four events provide an opportunity to learn The Work or deepen people's experience of it in a simple half- or full-day format. Her final event, The School for The Work, is nine days of total immersion in self-inquiry. Every day holds the possibility for a lighter and freer way of being, a return to one's true nature.
The School will be held at the 4-star Dorint Parkhotel in Bad Neuenahr, a modern spa town with all the charm of its beautiful bathhouse, parks, and spa gardens. Bad Neuenahr is famous for its mineral water sources, including the Apollinaris spring.
Register: http://www.thework.com/events.php
Byron Katie has one job: to show people how to end their suffering. She has been bringing The Work to millions of people around the world for more than twenty years through her website (where everything people need in order to do The Work is free), public events, weekend workshops, the nine-day School for The Work, and her 28-day residential Turnaround House program. Byron Katie is the author of three bestselling books: Loving What Is, I Need Your Love—Is That True?, and A Thousand Names for Joy; her other books are Question Your Thinking—Change the World, Who Would You Be Without Your Story? Peace in the Present Moment (with Eckhart Tolle), and, for children, Tiger-Tiger, Is It True? For more information, visit http://www.thework.com.
Contact Info:
Byron Katie International
805.444.5799
800.985.2843
registration(at)thework(dot)com