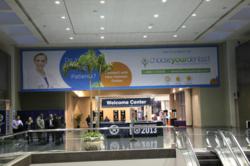 We want families to be able to enjoy time together, and that's why we're working so hard to make the process of finding a dentist easier than ever
Dallas, Texas (PRWEB) March 31, 2013
ChooseYourDentist.com, the Dallas-based online portal that helps patients and dentists connect, is making it easier than ever for families to find a dentist in Dallas, TX. Despite the fact that dental care is a crucial contributor to overall health, statistics from the National Institute of Dental and Craniofacial Research show that many families aren't getting the message. According to the Institute, "Dental caries remains the most prevalent chronic disease in children, even though it is largely preventable."
ChooseYourDentist.com is constantly upgrading its site and adding features in order to provide the latest in online technology that can help families find a dentist in Dallas, TX. The site is building a searchable nationwide database of dentists with information including services, hours of operation, and insurances accepted. Some dental practice profiles include photos and videos to introduce the dentist to prospective patients.
"Dental care is important, but we don't want patients to spend valuable family time looking for a dentist in Dallas," commented the site's co-founder, Feridoon Amini. "We want families to be able to enjoy time together, and that's why we're working so hard to make the process of finding a dentist easier than ever. Instead of having to look all over the web, try to contact friends, or search through a local telephone book, we've brought all of the information together into one convenient location."
According to Amini when patients are looking for a dentist they usually start with a general idea of the type of dentist they would like to see and a geographic area that will be convenient for them, but after that it's a lot of guesswork to find a dentist that can meet all of the family's requirements. ChooseYourDentist.com starts with this general information and helps patients focus in from there. For example, somebody who is looking for a dentist in Dallas, TX will have a chance to learn about Dr. Scott Schwalm of Dossett Dental while another patient who is looking for a dentist in Irving, TX may be directed to a microsite about Dr. Anup Naik of Cosmetic and Family Dentistry of Las Colinas.
ChooseYourDentist.com will soon be adding another feature where patients will be able to view local dentists' special offers. They won't have to save all the direct mail postcards they receive to find offers on such things as initial exams, x-rays, or teeth whitening. Further information on ChooseYourDentist.com may be found at http://www.ChooseYourDentist.com, by email at info(at)ChooseYourDentist(dot)com, or by calling 1-888-I-CHOOSE. You can also visit our blog site for discussion on dental treatment options for families.