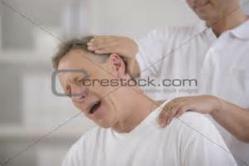 The rationale that PTs want to be like chiropractors cracks me up
Los Angeles, California (PRWEB) March 31, 2013
Today, the Independent Physical Therapists of California (iPT) continued their strong opposition to Senate Bill 381, authored by Senator Leland Yee, and announced the bill is scheduled to be heard on April 15, 2013 in California's Senate Business, Professions, and Economic Development Committee. According to iPT, the bill would 'handcuff' physical therapists by making it illegal for them to perform manual physical therapy techniques they have used for almost a century. iPT views the bill, sponsored by the California Chiropractic Association (CCA), as "absurd saber rattling which would limit consumer choice, harm physical therapists, and activate cash flow for chiropractors."
Contrary to communications from the CCA, Dr. Paul Gaspar, physical therapist and President of iPT, asserted that physical therapists do not wish to challenge chiropractors' identity or say they can do what chiropractors do. Dr. Gaspar claimed, "Physical therapists do not perform chiropractic manipulation, which is clearly defined as a chiropractic technique to correct spinal subluxations and cure diseases, often including hypertension, asthma, and bedwetting." He added, "The rationale that PTs want to be like chiropractors cracks me up. Physical therapist evaluation and treatment methods have always been based on scientific evidence- certainly not on a self-taught 'healer', who claimed to cure a man's deafness by adjusting his spine."
Dr. Jeff Fairley, physical therapist and public policy director for iPT, conceded that an attorney general's opinion from the 1970's may indicate that the 'mystical' healing powers of chiropractic manipulation and use of the term "chiropractic manipulation" are outside the physical therapists' scope of practice. At the same time, Dr. Fairley claims that the legal counsel for the California Chiropractic Board has advised the CCA that, according to current law, their board cannot keep physical therapists from using manual techniques that are within their scope of practice, even thrust techniques. "That's why chiropractors need to run a bill to keep PTs from continuing to provide patients with the same quality of care they have become accustomed to," Fairley concluded.
The iPT group has not been the only group suspicious of CCA's motives and/or its rationale. Dr. Fairley notes that federal court judge, Susan Getzendanner, concluded, "there was a lot of material available to the American Medical Association's Committee on Quackery that supported its belief that all chiropractic was unscientific and deleterious." Despite Dr. Fairley's skepticism of chiropractic methods, he still believes consumers should have the freedom to seek treatment from a chiropractor, or from any other licensed health care practitioner working within their scope of practice. Dr. Gaspar concluded, "This senseless turf war speaks volumes about the state of the chiropractic profession, but I believe that the Senate Business, Professions, and Economic Development Committee will speak even louder by soundly rejecting the bill."
iPT members are expected to give testimony in the Senate Committee on April 15th, chaired by Senator Curren Price. Members of the committee include Senators Bill Emmerson, Marty Block, Ellen Corbett, Cathleen Galgiani, Ed Hernandez, Jerry Hill, Alex Padilla, Mark Wyland, and Leland Yee.
Source: Independent Physical Therapists of California