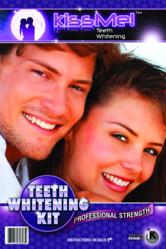 a revolutionary new product that combines bleaching with stain removal for unparalleled results
Port St Lucie, FL (PRWEB) March 31, 2013
Up until now, typical basic teeth whitening kits consist of a hydrogen peroxide (or carbamide peroxide) solution that is applied to a mouth tray and inserted into your mouth, causing a bleaching of the teeth to a lighter shade. More advanced or "deluxe" kits include a blue led light that enhances and accelerates the whitening process. However, this process only bleaches the stains on your teeth, it does not remove them. As a result, the longevity and potency of the effects are limited, requiring longer and more frequent treatments.
kissMe! Teeth Whitening has improved upon the old standard with a revolutionary new product that combines bleaching with stain removal for unparalleled results. Gone will be that pesky blue light, in its place - a proprietary new pretreatment formula that breaks up and removes stains prior to bleaching. Then, once the whitening formula is applied, consumers will finally be utilizing its bleaching power at its maximum potential because they will be whitening their enamel, not the stains on their enamel. So not only will consumers achieve more dramatic results than with traditional teeth whitening kits, but their results will also last longer, decreasing the frequency of treatment required.
Like all kissMe! products, this revolutionary new teeth whitening kit will also be Kosher certified and manufactured in the United States, ensuring a high quality product that garners consumer trust and confidence.
kissMe! Teeth Whitening expects to make this product available for purchase during the second quarter of 2013. Visit their website – http://www.kissmeteethwhitening.com to learn more about their line of Kosher certified high quality teeth whitening products.